Mad About a Fee? Start an Online Petition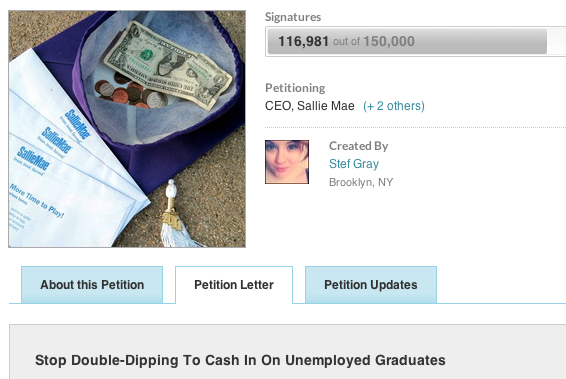 Online petitions — which combine the simplicity of Internet publishing with the distribution power of social media — are becoming a popular (and successful) way to to demand justice from unscrupulous corporations.
— Molly Katchpole, a recent college graduate and Bank of America® customer, started an online petition at Change.org that collected more than 300,000 signatures to fight Bank of America®'s plan to charge a $5 debit card fee. The bank rescinded the plan after one month.
— In a repeat feat, Katchpole pooled together more than 166,000 signatures to end a $2 "convenience" fee that Verizon, one of the nation's biggest providers of telecommunication and broadband services, charged for paying bills online.
— And most recently, Stef Gray, another recent grad, started a Change.org petition to protest a $50 forbearance fee that was pocketed by Sallie Mae, the largest servicer of student loans in the United States. Sallie Mae agreed to apply the fee to loan balances, but not to end the fee, after Gray collected 76,000 signatures. That wasn't enough to satisfy Gray or her supporters. At presstime, the petition had added another 40,000 signatures.
Venting is not enough
Social media outlets such as Twitter and Facebook allow users to lash out instantly against companies that make consumers unhappy.
But with hundreds of millions of Twitter and Facebook updates per day, it's highly unlikely that any particular complaint can gain enough traction that a company notices — and that doesn't guarantee a fair fix to the issue.
Even with a large amount of affirmatory "retweets" and "likes," these social media channels rarely push companies to take an action.
With an online petition, consumers can pool their dissatisfaction — transforming a bunch of solitary, angry tweets into a powerful protest tool.
So the next time you want a bank to remove a predatory fee, don't just tweet or update. Start a petition. And be prepared to succeed.
Ask a Question