Banking Stinks Like Cigarettes and Politics: Survey Shows Contempt for Industry
Banking is about as popular with American consumers as Big Tobacco and the federal government, which is to say: not very. According to Harris Interactive's annual Reputational Quotient (RQ) survey, which was released today, the banking industry suffered serious damage to its reputation last year.
Four of the five biggest drops in RQ were suffered by leaders in the banking and finance industries. Bank of America®, Wells Fargo, Goldman Sachs Bank USA and JPMorgan Chase saw substantial declines in reputation, some to the point that it might threaten their future livelihood. Goldman Sachs Bank USA and Bank of America®'s declines took them below the crucial 50 RQ threshold — RQ is scored 1-100 — which sometimes correlates with serious fiscal troubles for corporations.
"Past sub-50.0 RQ performers include the now-deceased Enron, Adelphia and WorldCom," writes Harris Interactive in their report on the survey. Halliburton and BP have also gone below 50 RQ in the past, though both continue to exist. A company's odiousness does not always correlate with its financial health.
The Harris poll asks consumers for their opinions on six key attributes of the 60 'most visible' corporations in the United States. Rating companies' social responsibility, emotional appeal, products and services, workplace environment, financial performance and vision and leadership, the Harris RQ survey seeks to get a snapshot of corporate America's reputation among consumers.
We're not too happy with banks
Banking and financial services scored terribly. Bank of America®'s RQ fell by the most of any corporation in the survey, dropping 9 points from its 2011 score. Wells Fargo lost 6.65 RQ points, while JPMorgan Chase shed 6.31 points. The six lowest-ranking companies of the 60 included are: Citigroup, Chase, BP, Bank of America®, Goldman Sachs Bank USA and AIG.
In all, banking ranked as one of the least popular industries (technology being the most popular), with just 16 percent of respondents saying banking had a good reputation. A wide majority, 67 percent, said the banking industry had a negative reputation. Only the tobacco industry and the government scored worse.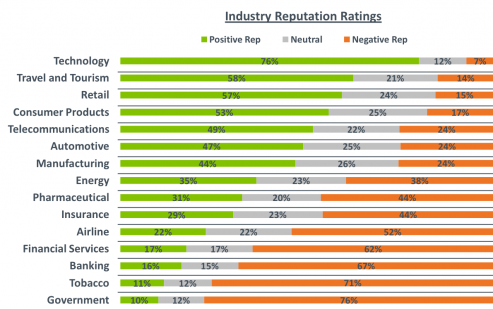 Tech companies, on the other hand, we like
The sectors that perform the best on Harris' poll are typically perceived by consumers to benefit the economy. Technology is the only sector that a majority of respondents (53%) consider to be a part of the solution to America's current economic woes; Apple and Google top 2012's RQ list with scores of 85.62 and 82.62, respectively. Meanwhile, 75 percent of respondents believe that the banking industry is hurting the economy.
Not all banks fell victim to these reputational issues. USAA, which has recently gotten positive press for its consumer-friendly business model, placed 21st on Harris' survey with a score of 75.55, or Very Good.
American consumers are not inherently suspicious of banks. We are as capable of appreciating a bank as we are Nike or Target (75.95 and 74.26, respectively), but only when we feel that we're being treated fairly.
The big blows to banks' popularity last year were concerned with fairness. Occupy Wall Street brought attention to the injustice of wealth distribution in the United States, which is enabled by financial services and banking; banks responded to the Dodd-Frank Act's limits on debit interchange by introducing fees to debit and checking products, leading customers to feel as though they were being gouged. Should big banks learn to play fair, or at least convince their customers that they are, their RQs will likely improve.
View Harris Interactive's summary of their findings here.
Ask a Question