Citibank's Broken iPad App: A Tale of Two Tales and Double Charges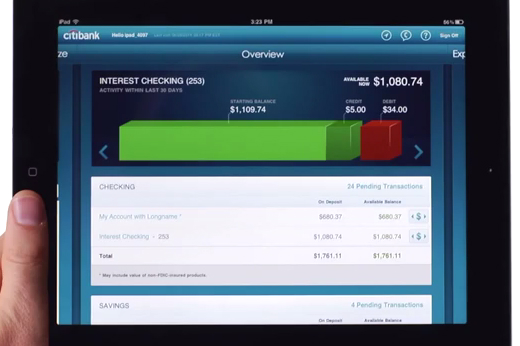 Citibank's iPad app had an interesting day in the media last week. On the very same day the app got a glowing write-up in American Banker, it received a less-than-stellar write-up in the New York Times' Dealbook. While AB praised the bank for the app's inventiveness, Dealbook documented how it had a serious flaw: it sometimes charges users twice when they use the app to pay bills. Citi has since fixed the bug.
According to Thursday's article in Dealbook, items as small as a cable bill and as big as mortgage payments were sometimes double-billed. The bug went unnoticed between July — when the app was launched — and December of 2011. And the bank didn't begin alerting customers to the issue until last month, according to Dealbook.
"A technical command on the bank's iPad application," writes Dealbook, "was wrongly set to redo transaction that had initially failed."
Citi customers have since been reimbursed.
Citbank iPad App Flap
The timing was unfortunate for Citi, which was publicly touting their iPad app at the same time on American Banker. One of the app's strengths, according to AB, was that Citi "chose to start from scratch rather than adapt the bank's website or mobile app for tablet use."
American Banker spoke with Tracey Weber, Citi's head of Internet and mobile banking in North America, and she touted the app's diversity of features, especially the additional personal-finance management (PFM) features that wouldn't be as easy to incorporate into a mobile app or online banking experience.
"On a tablet [data] is displayed in a way that's visually rich and makes you see the story inherent in the data. So instead of a ledger with a list of transactions, you see interactive charts and graphs that let you see how cash inflows and outflows are going," Weber told AB.
Unfortunately, this focus on PFM wizardry and throwing out the old might have come at the expense of something more important: making sure the thing works right. Glitzy as the user-end experience might be with the Citi app, customers would likely prefer that such glitches never occur.
"We take seriously the functionality of our products and services as well as the satisfaction of our clients," a Citibank spokesman said in an email statement. "Upon discovering a technical bug in our Citibank for iPad app had caused a limited number of clients to encounter duplicate payments or transfers, we immediately fixed the technical issue."
Banks rolling out new products to make the user experience more fluid and informative is, without a doubt, a good thing for consumers. But a smooth user experience is worthless if users can't be confident in their bank's ability to process payments correctly.
Ask a Question