AmEx Makes Big Changes to Serve, Other Prepaid Products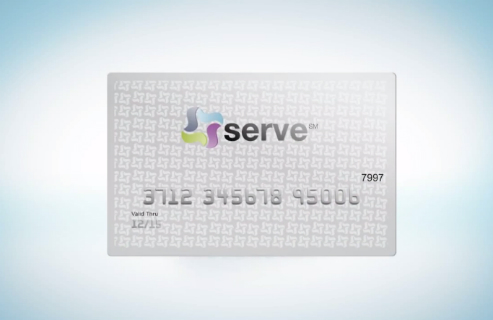 American Express announced big changes to its digital wallet product, Serve, at a financial technology conference in New York on Thursday. According to American Banker, the credit card provider plans to merge its digital wallet with its prepaid products. This represents a big step into a new market for American Express, which typically deals with prime borrowers.
According to American Banker, "all Amex prepaid card users will use the Serve platform," after these changes are in place.
The American Express® Prepaid Card stands out in the growing field because it doesn't charges users annual or monthly fees. That's particularly notable since most of
Amex' charge cards do come with fees. The card doesn't charge per transaction either, like the worst of the lot tend to, and it offers just one free ATM withdrawal a month.
American Express could not be reached for comment to elaborate on how this integration will work, and precisely what it will mean.
Integrating Redundant Services
American Express launched Serve in March of last year. The product is a digital payment and commerce platform not dissimilar to PayPal. It is a stored-value product (i.e., it must be loaded by the user from a bank account, credit, or debit card), and it allows for both online purchases and P2P payments. It can also be used at brick-and-mortar retail with the use of a Serve debit card.
Upon its launch, AmEx stated, "We intend to quickly evolve the Serve platform by adding new features and functionality as we learn from consumer and merchant experiences," in prepared remarks. Perhaps merging the service with other prepaid products is the company's way of responding to customer habits.
With rapid advances in mobile banking happening constantly, it makes little sense for AmEx to keep their prepaid digital wallet separate from their physical prepaid products, especially when the latter already offers the former. Serve will now function much like Google Wallet, which includes a Google prepaid card, but only virtually.
American Banker also reports that Serve will enable physical point of sale transactions without a physical card. Instead, users "will be able to pay using their mobile phone number and a PIN," writes American Banker, comparing it to PayPal and Home Depot's pilot program, which uses the same authentication method at checkout.
It's certainly an interesting move for American Express to get mixed up in the world of the underbanked. The card company deals almost exclusively with prime borrowers, and doesn't typically extend credit for long periods of time — most AmEx cards are charge cards, which are supposed to be zeroed out at the end of every billing cycle.
This pivot into prepaid won't have American Express extending any more credit than it is accustomed to, but it is expanding its reach to an entirely new consumer base. Perhaps this explains why AmEx is rolling this new customer base back up into an entirely different brand.
Ask a Question