Where's the Dislike Button? Banks' Social Media Efforts Lag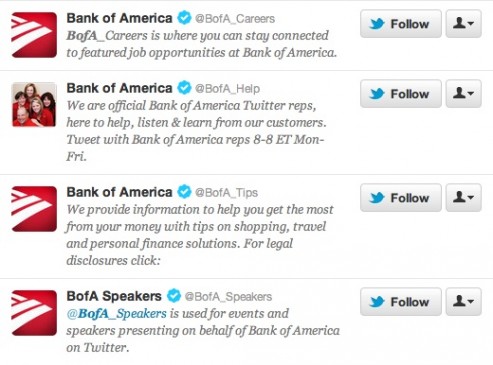 Even if you don't hate your bank, surely you've experienced a situation where you needed to vent your frustration, so you took to Twitter for a short burst of discontent. Did you receive a response?
Every industry feels the implications of social media. Instead of calling customer service and pleading your case, you now have the ability to expose massive inadequacies in a company's practices, putting them on the defense.
To potentially minimize the brunt of the hit, entire industries began making a huge push — hiring customer-service/social-media folks to respond to negative tweets as quickly as they were sent out. The airline industry in particular took this very seriously.
Current efforts
Banks have had a more lukewarm response.
Chase is the most liked "bank" on Facebook with 3.37 million likes, but largely because it promotes their popular charitable arm, Community Giving. Capital One follows with 2.49 million.
American Express, which is not a bank but offers similar services, has 2.38 million.
Most American banks however are nowhere near that mark. Citibank US has fewer than 200,000; even Citibank India has almost double the amount. Wells Fargo couldn't even break 30,000.
According to an article from The Financial Brand, the top 35 most liked banks claim around 8.82 million likes out of a combined 1.5 billion customers. This means Facebook reaches an average of 0.6% of the banking customer base, or one in every 173 customers.
Twitter – same story, different title
Banks have numerous Twitter handles like @BofA_Help, @ChaseGiving, and @WellsFargo, and many banks have more than one account. American Express' combined accounts easily have the most followers of any U.S. financial institution with 227,000, largely because of their "Link, Like, Love" campaign. Most banks trail far behind with an average of 20 to 30 thousand.
BofA's accounts have the same general formula: @BofA_Community, @BofA_Careers, @BofA_Help, @BofA_News, @BofA_Tips and @BofA_Speakers. Community has the most followers with 56,000. Citibank instead focuses on the many geographic areas it covers, including Europe, India, UAE, Indonesia, Singapore and others.
There does not seem to be a standard formula for banks when managing their social media and connecting to customers. Compliance is the only issue that unites all banks in terms of their social media efforts — such as how they might archive a Facebook post and the conversation surrounding it.
But how are banks using social networking to help with our banking problems and questions, and more importantly who is doing it well?
Power of the people
The prevailing opinion in the finance world seems to be that banks' social-media activities will be dictated by customers, rather than the brands themselves. However, banks have the power to change that notion, according to Megan Hargroder, Social Media Strategist/Problem Solver at Conversations, LLC.
Megan, who banks with Chase, is impressed by banks' technological advances like mobile check deposit and P2P payments, but remains underwhelmed by their social media campaigns.
"Similar to airlines, banks should treat Twitter like a listening tool, and use it to quickly and efficiently connect to customers," she said. "From there they can always give you a number to speak privately."
Granted, banks can set up a promotion and grab a few thousand likes for their page, but that does not cultivate a lasting relationship. "It would be really cool if I tweeted that I lost my wallet and Chase contacted me with a number to call directly," Hargroder said. "That would really impress me and gain my loyalty."
Doing so would be as simple as adding Tweeters to their customer call centers à la @DeltaAssist.
The Financial Brand would tend to agree. They note that there's no proof that social media is necessary for a bank to succeed. Banks do not struggle because they have a poor social campaign, but many of their campaigns are indeed struggling.
Banks are slow on the uptake
One thing that Megan pointed out was that no bank has put all its chips on the table yet in terms of a strong social media campaign. In this area, banks actually suffer from their tremendous visibility in that they will always wait for the customers to get agitated before addressing concerns.
Even online banks like Ally do not have a dedicated Twitter customer service force, and Ally exists solely online!
Hargroder thinks banks could take a lesson from the airlines. In both industries losing a customer is costly, and the importance of a long-lasting relationship is high. And because of the efforts of airlines and others, the next generation of bank customers has come to expect this type of communication from corporate America.
Ask a Question