Citibank Launches Mobile Check Deposit Nationwide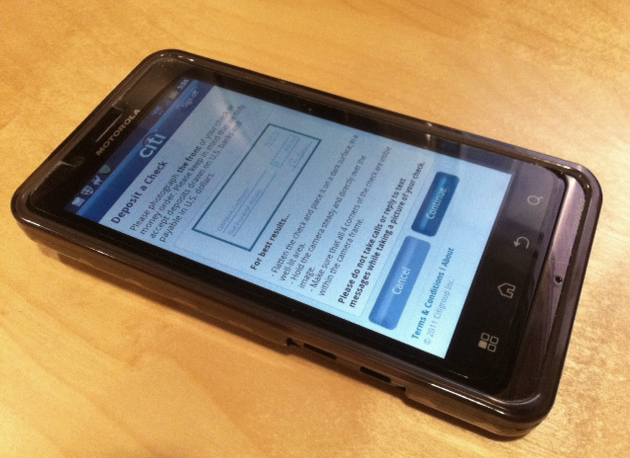 The wait is over for Citibank customers who want to use mobile check deposits. After five months of testing, Citibank opened the feature, which uses a smartphone's camera to deposit a paper check, to all customers nationwide.
All Citibank customers with active checking accounts that have signed up for online and mobile banking can use mobile check deposit starting today.
It was a nail-biting wait for eager customers since the feature started its pilot phase in October 2011. Customers in New York, California and the city of Chicago were selected to test mobile check deposit before the nationwide release.
The free mobile check deposit feature lets customers deposit checks by taking photos of the front and back sides of the checks.
For new customers, the daily deposit limit is $500 through mobile check deposits; the monthly deposit limit is $1,500. For customers with an account for 6 months or more, the deposit limits are increased to $1,000 per day and $3,000 per month.
Currently, the feature is available for Apple iPod, Apple iPhone and Google Android devices.
Available but tedious
Although the launch of the feature may come as a relief to many customers, it wasn't entirely smooth sailing because there are multiple complaints of a buggy experience.
Here's one user's review of Citi mobile check deposit feature, in Apple's iTunes, that describes many other users' experiences:
I was really excited to see that Citibank finally has a mobile check deposit feature as Chase does. But the Chase app is far more use friendly. Why do I need to enter my ATM card number and PIN every time I log in to that feature of the app? … Also, on the occasions where it says the picture is blurry, it would be helpful if it said whether it was the photo of the front of the check or the back of the check that's blurry. I get that message often even though both the photos look flawless to me.
"Account security is always one of our top priorities; the authentication requirements are in place for security reasons. Images of checks must be of high quality. To date, the vast majority of transactions have gone through on the first attempt without issue," said Andrew Brent, a Citi spokesperson, in an email.
Ask a Question