Three Card Issuers Join Mobile-Payments Venture 'ISIS'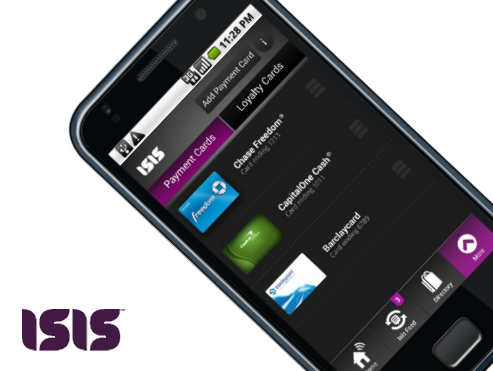 Banks and card issuers are warming up to the idea of mobile wallets. Chase, Capital One and Barclaycard say they will partner with Isis to link their credit, debit and prepaid cards to the Isis Mobile Wallet.
Isis, the joint venture by AT&T, T-Mobile and Verizon, will imbue the connected payment cards with near-field communications (NFC) functionality.
Consumers who link their cards will be able to make contactless payments with their NFC-enabled mobile devices. Chase, Capital One and Barclaycard will tailor the payment experience to best fit their brands.
According to recent Nielsen report, 71 percent of app downloaders are interested in an app that allows them to use their phone as a credit card.
Last July, Isis locked in relationships with the four largest payment networks in the U.S. — Visa, MasterCard, Discover and American Express. In September of last year, Isis entered an agreement with major handset manufacturers to employe Isis NFC and technology standards in new mobile devices.
The gathering of banks, card issuers, payment networks and device manufacturers bodes well for Isis, a participant in the race to revolutionize mobile payments. Google Wallet, which partnered with Citi and MasterCard, has already been on the market for five months. Visa and PayPal are working on their own mobile wallets but don't have partnerships with U.S. banks or card issuers yet.
"Mobile commerce is more than a new way to pay," said Michael Abbot, CEO of Isis, said in prepared remarks. "It's about extending the relationships consumers enjoy with their banks and merchants into a powerful and convenient new form factor."
The Isis Mobile Wallet will also allow users to sync their loyalty rewards cards. Merchants can send personalized discounts and offers while consumers have less plastic to carry around in their physical wallets.
The Isis Mobile Wallet is scheduled to launch this summer in Salt Lake City, Utah, and Austin, Texas, — a national roll-out will soon follow.
Ask a Question