Banks Sank, While Payday Lenders Soared on New 'Cordray Index'
Since the recession, alternative financial services have boomed while banks have been mired in a nightmarish mix of decreased profitability and increased regulatory scrutiny. It has been a bad few years for banks, and the stock market has responded by punishing the shares of bank companies. Stocks for alternative financial service provdiers like Western Union, however, have skyrocketed.
But that might not last.
There's a new sheriff in town for payday lenders and debt collectors: recess appointee head of the Consumer Financial Protection Bureau, Richard Cordray. When it comes to non-banks, Cordray has publicly promised to "level the playing field," by closing the gap in regulatory burden between entities like Bank of America® and Western Union.
The Cordray Index
Reuters' Breakingviews blog put together what they call the Cordray Index: 15 publicly-traded companies that might find themselves subject to increased regulation, including payday lenders, prepaid card providers and credit ratings agencies. This basket of stocks has outperformed the S&P 500 by a wide margin, and it has outperformed banks by an even wider margin.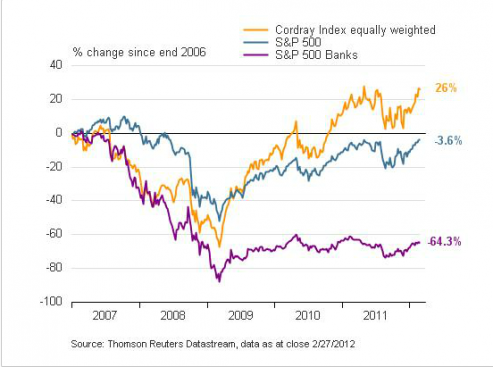 But with Cordray's regulatory hammer ready to drop — maybe — these companies might face steeper regulatory burdens and lowered profitability. And this might help banks. Breakingviews notes that the market should have priced this downside risk in by now, and it doesn't appear that it has, meaning the markets might doubt Cordray's ability to get things done.
An interesting side note here is that if you look at the Cordray Index's 15 members' performance since 2010, three of the four worst performers are involved in the prepaid debit card business: Moneygram International (-15.9%), Netspend Holdings (-26%), and Green Dot (-44.5%). Apparently the market has not been terribly impressed with the business' fundamentals.
Good news for bank stocks on the horizon?
The market might level this out on their own, according to the Wall Street Journal. In a brief recap of a Credit Suisse analyst report, the Journal predicts very good news for banks: "This year, Credit Suisse and others expect every bank to pass the [Federal Reserve's] stress test, and the majority to be allow to significantly boost their pay outs [on dividends]."
In the past, this has provided "a boost to investors and the sentiment around bank stocks in general," writes the Journal.
It would be a welcome break for banks, having dealt with so many consecutive quarters of doom and gloom.
Ask a Question