Ally Aims to Release Mobile Banking App in April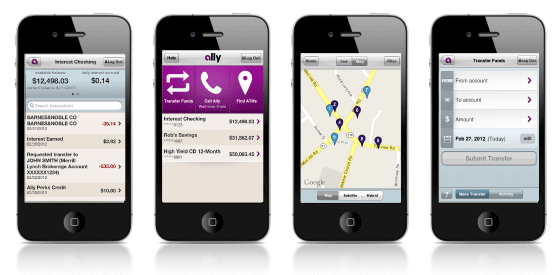 For Ally Bank customers, the wait for a mobile banking application is nearly over. The online bank aims to launch the first versions of its highly-anticipated mobile apps in April.
"Although April is later than we'd hoped to get Ally Mobile Banking out to our community, our primary concern is to make sure that our mobile solution handles your finances in a safe, secure manner," Ally said in a blog post.
In October, Ally Bank first announced that mobile apps were coming.
"We've been testing internally and expect to conduct an employee pilot prior to launch," said Beth Coggins, an Ally spokesperson, in an email.
Initially, Ally's apps will allow customers to check account balance, search transaction history, transfer funds, check accrued interest and the wait time to speak with an Ally representative. Those are the standard features that customers will find with Ally's online banking interface as well.
Ally plans to release a separate mobile app that will serve as an ATM finder — for customers and non-customers alike. Since Ally customers don't pay ATM fees at any ATM, it'll be a useful tool. For non-customers, they'll have to watch out for fees. Additionally, this ATM finder app will locate places where merchants give cash back, not cash back rewards, when users make a purchase.
Customers with the iPhone and Android devices will be the first to get a native mobile banking app. BlackBerry and Windows Phone users will have to manage with a mobile-optimized site as native apps for these platforms will come later this year.
Also coming later this year will be person-to-person (P2P) payments, mobile check deposit, electronic bill pay and more.
Currently, Ally's online banking platform allows customers to make P2P payments, use online bill pay and deposit checks online via scanner.
So, Ally customers have been given a one-month notice to be on the lookout for the apps' release — or just sign up for MyBankTracker's newsletter since we'll be covering it when it launches.
Ask a Question