Citibank and IBM's Watson Join Forces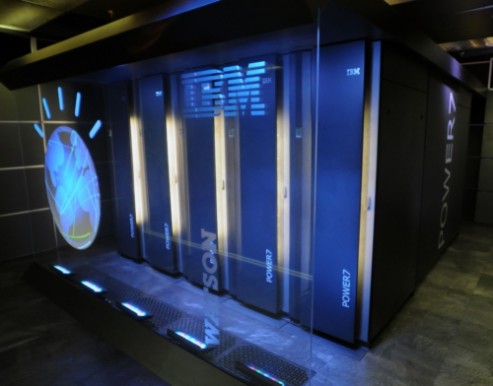 Many American corporations go to India for help with customer service, often at the expense of their customers and American workers alike. Citibank announced today that it will be looking somewhere stranger for customer-service solutions. Citi has entered into an agreement with IBM to "explore" the potential for using IBM's Watson to modernize banking services, according to a press release.
Watson is the IBM artificial-intelligence computer system designed to win at Jeopardy! by learning to answer questions in natural language. The machine beat two of Jeopardy's best contestants in 2011, using its massive database of knowledge and IBM's proprietary question-answering system. Though it won, Watson did miss Final Jeopardy! on his first outing — misidentifying Toronto as a U.S. city.
Now Watson might find itself working for Vikram Pandit.
"At Citi, we are constantly developing new, innovative ways to better serve our customers' financial needs," said Don Callahan, Citibank's Chief Operations & Technology Officer, in prepared remarks. "We will explore how we can use the Watson technology to provide our customers with new, secure services designed around their increasingly digital and mobile lives."
Big data, big computer
Beyond that, the partnership with Watson seems to be positioned as a response to the problem and promise of big data — the massive amounts of structured and unstructured data that businesses and institutions are able to collect with current technology. That data tends to be so "big" that companies are not necessarily able to analyze it in any useful fashion.
Citi will be able to take advantage of Watson's ability to understand natural language and process massive amounts of data — helping Citi make smarter suggestions and decisions for its customers.
The more people interact with their bank using electronic means, the more data trails they leave behind. While information regarding a negative interaction with a teller will likely make its way to the branch manager and stop there, with digital banking, Citi has an opportunity to analyze incredible amounts of data about customer habits. These large data sets can be crunched to figure out customer pain points: why do customers call so much? why don't they open money market accounts? etc.
Watson will be able to analyze the most unstructured sort of data that Citibank gets — the things you say — and help them tailor a better customer service experience…maybe. Again, this is only an "agreement…to explore possible uses" of Watson. That's two-and-a-half qualifiers away from being reality. Watson was built to win Jeopardy!. Like Deep Blue, Watson is equal parts publicity stunt and innovation. Perhaps Citi is splitting the difference here, too.
That said, Citibank already makes it difficult to speak with a human being when you call customer service. Watson would be better than nothing.
Ask a Question