Amex Rolls Out 'bluebird,' a Cuter Prepaid Card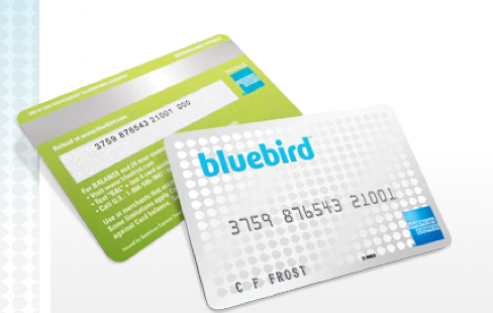 (UPDATE: American Express has discontinued this bluebird card and it has been relaunched as Bluebird.)
Perhaps it's a snooty thought, but it's hard to imagine a Walmart cashier handling that many American Express cards. They're two different worlds, financially speaking. That's all about to change, as the credit-card provider rolls out a new over-the-counter prepaid product at select Walmart locations, according to MarketWatch. This is quite a departure for American Express, which has traditionally employed a rather exclusive business model, lending only to prime borrowers — is there a retail outlet more run-of-the-mill than Walmart?
The card, called bluebird, has more or less the same cardholder agreement as Amex's other prepaid card, but with much younger. slicker branding. The card has no monthly fee, nor does it have fees for making payments. Users are allowed one free ATM withdrawal per month, after which point withdrawals cost $2 — the card's only fee.
Customers can sign up for the card online at bluebird's website or they can purchase them over the counter at Walmart. MarketWatch reported that 180 stores will be carrying them on the West Coast, but our own state-by-state search of the bluebird website turned up far fewer stores in more diverse areas of the country. The website shows just 15 stores selling bluebird cards in states all over the nation, all west of the Mississippi save for one: California, Minnesota, Iowa, Colorado, Kansas, Hawaii, Wisconsin and North Dakota.
It is sold exclusively at Walmart for now, as are the Feeder Packs for reloading the card with cash, which cost just $1 more than the load amount. It works everywhere American Express is accepted, except for casinos.
The prepaid card, or at least the marketing surrounding it, also has a larger goal: project bluebird. American Express wants to know what you think of the future of money: "The more we know about what you want, the better bluebird can get for everyone," reads the ad copy. Anyone looking to share their opinions on money is invited to give American Express their email address.
American Express already has a prepaid card, but selling them over the counter at Walmart gives the company an opportunity to broaden their customer base. Perhaps wisely, they have branded their prepaid card quite differently from their charge cards, which feature a Roman warrior. Bluebird is a bit less powerful, after all.
Ask a Question