Bank of America Suffers Brutal Doo-Wopping from Public Citizen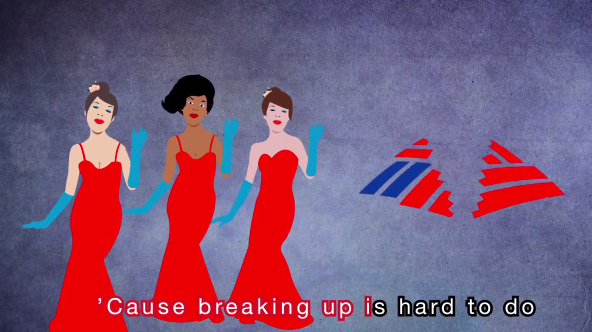 Public Citizen, Ralph Nader's consumer advocacy group, released a catchy new music video that, despite its charms, likely won't get Brian Moynihan tapping his foot. Called "Breaking Up is Hard to Do," and based on the Neil Sedaka doo-wop classic by the same name, Public Citizen's video calls for the massive bank to be broken up into smaller, more manageable parts.
The video features animated versions of both Moynihan and former BofA executive Kenneth Lewis, as well as Federal Reserve Chairman Ben Bernanke and Treasury Secretary Tim Geithner, doing the sort of Scrooge McDuck things we imagine the obscenely wealthy to do: tossing money around, smoking cigars, and the like. Meanwhile, our singers croon:
We beg of you, don't say Countrywide/

Can't we find more Merrill Lynch to buy/

Come on baby, let's TARP anew/

'Cause breaking up is hard to do
Watch the video below:
Petitioning those they mock
The video act as an accompaniment to Public Citizen's month-old petition to the Federal Reserve and the Financial Stability Oversight Council, which asks them to break up Bank of America, due to the "grave threat" the bank poses to the health of our financial system. Citing section 121 of the Dodd-Frank Act, Public Citizen states that the Fed and the FSOC — headed by Geithner, whose animated avatar in the video is shown gleefully tossing money out of a massive sack — has the authority and the responsibility to mitigate the threat that Bank of America poses to the economy by breaking it up into smaller institutions.
Bank of America is the second largest bank in the United States, and according to the petition, its assets are worth about one-seventh of the gross domestic product of the U.S. Due to its size and interconnectedness with other institutions, and its current financial woes, Public Citizen argues that the bank's failure could lead to yet another "devastating financial crisis."
And so we have this charming, animated music video, which references both Anonymous and WikiLeaks. WikiLeaks, some may recall, had boasted of five gigabytes worth of leaked data from Bank of America, and intimated that their information was controversial enough to "take down a bank or two." That never materialized, though some marketing materials for the leak recently surfaced.
Doesn't stand a chance
Public Citizen's petition doesn't stand a chance. The lobby acknowledged as much in the video, by showing the men they were petitioning — Bernanke and Geithner — carelessly tossing around taxpayer dollars like confetti.
It's a compelling thought, however, that our big nationwide banks should be broken up into smaller parts. Nationwide banks are, after all, a relatively new phenomenon — the Riegle-Neal Interstate Banking and Branching Efficiency Act, which allowed the creation of nationwide banks, was passed in 1994. New regulations from the Dodd-Frank Act and slow growth in the economy have teamed up to make this business model substantially less profitable. If Public Citizen is correct about the risks BofA poses to our financial system, one hopes that Geithner and Bernanke don't need to step in — and that Bank of America breaks itself up slowly, by selling off small parts of their business as Moynihan has been doing.
Ask a Question