Save with American Express When You Send Two Tweets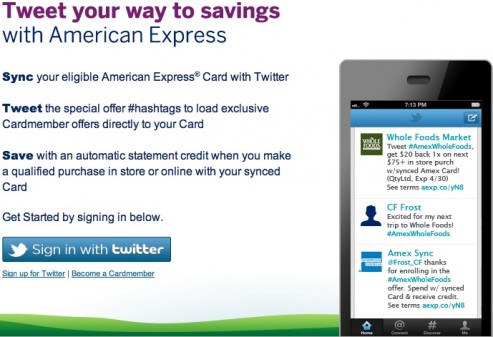 American Express (NYSE: AXP) has launched yet another social networking campaign, this time with Twitter, to complete the trifecta of deals you can access through your phone. Sync your card to your Twitter account and hashtag participating brands in your tweet to get your discount.
Your synced AmEx card has already been Facebooked and Foursquared, so what's another social network added to the swipe of your plastic?
After you sync your card to your Twitter account and send out some obligatory formulaic tweets, which you can copy and paste straight out of this article, you will be eligible for discounts to a number of stores including Whole Foods, Best Buy and Dell.
The discounts will then be preloaded onto your card; ready for the next time you walk into the store or purchase online, depending on the terms. After tweeting #AmExC21stores, for example, you will receive a $10 statement credit when you spend $50 or more before April 30 for online purchases at C21stores.com.
Similar to the other programs, no coupons are necessary; your synced card will automatically be credited the $10.
However, as an article from USA Today travel benignly points out, you need to send just the following pair of tweets to be eligible for all the discounts:
Tweet 1: #AmexHM #AmexGulfOil #AmexC21stores #AmexWholefoods #AmexDell #AmexSeamless10
Tweet 2: #AmexVirginAmer #AmexFedEx #AmexCheesecake #AmexMcDonalds #Amex1800flowers #AmexSportsAuth #AmexBestBuy
In fact, send them right now so you don't need to think about it again.
What is the point?
AmEx may appear to be way ahead of competing payment servicers with all these social media buttons, but is this what they had in mind? For maybe the next few days (if this news even heats up), these tweets will shoot from users' phones, but they will likely be condensed into two or three tweets as others and I have exhibited.
Unlike Foursquare, you do not need to be near the place to get the deal, and unlike Facebook, no one will find the tweet minutes after its creation. It will get buried in their minifeeds, lost in all the Twitter clutter. This is essentially exposureless exposure; we get the deals and no one has to know about it.
The nature of tweets cause them to be analyzed in the following days by how many were sent per second. When Whitney Houston died, a New York Times article did not focus on who said what, it reported on the sheer volume of tweets and how the sensation receded in 24 hours. Whitney is barely a Twitter topic anymore.
It's unclear what Amex's objectives — other than generating cash — may be. Lead-generation? Ads in Twitter feeds? Just collecting info on Gen Y consumers? Who knows?
Ask a Question