Start Complaining: Student Loan Debt in US Exceeds Credit, Auto Debt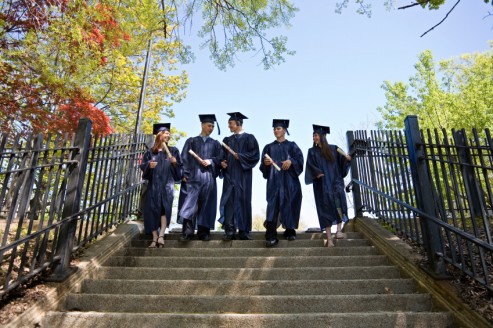 In a seemingly deliberate fashion, a new report from one government agency on mounting student loan debt was released at the same time that another federal agency launched a system to collect complaints from student-loan borrowers.
Americans carry larger debt burdens from student loans than from credit cards or car loans, according to a new report from the Federal Reserve Bank of New York (FRBNY).
Total student loan balances in the U.S. are nearly $870 billion, surpassing total debt from credit cards, at $693 billion, and auto loans, at $730 billion. The findings were based on a unique and nationally representative data set from consumer credit reports at Equifax, one of the three major U.S. credit bureaus.
The average outstanding student loan balance per borrower is $23,300, according to the FRBNY report. The median debt is nearly half that at $12,800.
The Fed said that as many as 1 of every 4 borrowers was behind in their student-loan payments — that means that roughly 10% of the total student loan balance ($85 billion) is past due. Younger generations are responsible for a large portion of this type of delinquent debt — 25% of the total past due balance is held by consumers under the age of 30. Nearly 34% of student loan delinquencies belong to those ages 30 to 39.
The increasing costs of higher education and the increasing difficulty of making payments in a struggling economy have drifted into the political agenda. Last fall, President Obama took executive action to cap monthly payments on federal student loans at 10% of borrowers' discretionary income. No such cap has been placed on private loans. Additionally, Obama proposed an incentive program to convince colleges to adopt a responsible tuition policy — federal aid may fall for those that do not comply.
Complaint Desk
The Consumer Financial Protection Bureau (CFPB) has stepped in to address student loans too.
The consumer agency opened its student loan complaint system to the public this week. Consumers can file a complaint or suggestion to improve the student loans in the future.
Here's the core of the new complaint system:
"If you file a complaint, we'll work with your lender or servicer to get a response. While we certainly can't make your debt disappear, we can help bring your concern to your financial institution's attention. If you don't have specific complaint or question, but want to tell us what is — or is not — working in the student loan market, we invite you to tell your story."
"Our team at the Bureau will keep working to give you the tools and the information to make sound financial decisions on student debt – and to figure out your options in case things don't go according to plan," the CFPB said in a blog post.
Ask a Question