What Can North Dakota's Bank Teach Us?
Rare is the day when North Dakota is the envy of any other state. But the third-least populous state in the Union is now the envy of more than a dozen states. It's not the Fargodome that's the object of this jealousy, either — it's North Dakota's state-run bank, the only one in the nation. American Banker reports that 17 different states are considering legislation to create similar banks. Is this a terrible idea? or a brilliant one?
If you ask the Bank of North Dakota, or any of the journalists who covered it in the last year, you'd have to conclude it works pretty well. The bank was founded in 1919 to promote economic development in the state, specifically by extending credit to farmers. Their business has expanded in the last 93 years to provide other forms of finance, and they weathered the 2008 crisis quite well. Instead of having a budget shortfall after the collapse of the financial system, North Dakota had a surplus.
Bank puts money back into state coffers
Mother Jones, which is pre-disposed to being enamored with institutions like BND, was early to sniff out the story potential in the state-run bank, and did a Q&A with the bank's president, Eric Hardmeyer. In it, he explains how the relationship works with the state's government. BND acts as depository for state tax collections, and it uses its funds to invest in North Dakota businesses and people, sometimes in areas or sectors that the private sector wouldn't find so attractive. BND then turns over about half of its profits to state coffers at the end of the fiscal year, and has put approximately $300 million into the state's general fund over the last decade in this fashion.
Despite BND's success, and readily apparent capitalist intentions, not everyone is on board — especially not community bankers. Bloomberg ran a story on BND last year on the topic of state-run banks, and got quite the response from the Independent Community Bankers of America:
"A state-owned bank? Why don't we just re-label the state capitols the Kremlin?" Camden Fine, president of the Independent Community Bankers of America…said in a telephone interview.

"It's a socialistic idea," Fine said. "If you get a state-owned bank that is allocating credit, it can slide very quickly into a situation where those in favor get credit and those not in favor don't get credit."
Helps, doesn't harm, other local banks
Of course that presupposes that BND is the only bank the state, which fortunately isn't the case. As Yes! Magazine points out in this piece on the bank, it doesn't even really compete with other banks in the state. Instead it "partners with them, helping with capital and liquidity requirements. It participates in loans, provides guarantees and acts as a sort of mini-Fed for the state."
And looking at this chart from the New Rules Project, you can get a sense of how effective this has been at keeping lending afloat in the state. Not one FDIC-insured community bank has failed in North Dakota in the last decade.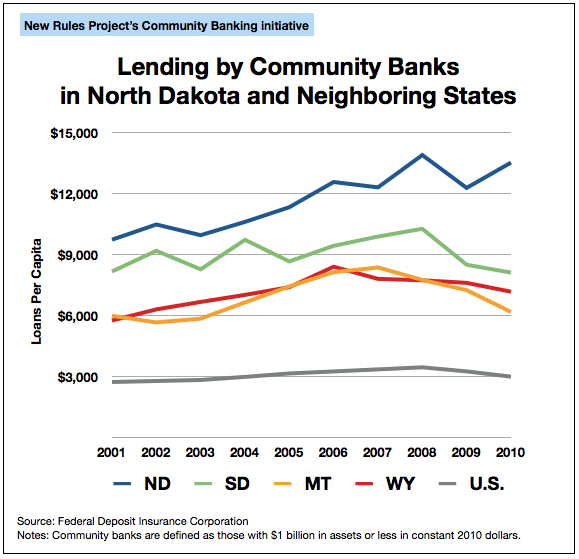 As to what sorts of products BND offers, it's hard to say. They aren't a retail bank, but they do offer student loans, with lower rates for North Dakotans and people who go to school in North Dakota — at about 4.96% APR, substantially lower than federal loans.
Whether this could work everywhere is a matter for state legislators to debate. With so many municipalities coming to the realization that private banks do not have their community's best interests in mind, and putting funds into credit unions instead, it's certainly worth considering — especially given North Dakota's success. That said, North Dakota happens to sit atop something called the Bakken formation — a massive swath of shale deep in the earth that might contain billions of barrels of oil. North Dakota's oil production has spiked in recent years, nearly quintupling between 2005 and now.
Bank of North Dakota, during the worst parts of our recession, was helping finance business in one of few bright spots in the country's economy. Whether the bank's recent successes could be replicated in other states is therefore uncertain.
Ask a Question