Take It to the Bank: Mobile Check Deposit is the Next-Gen Standard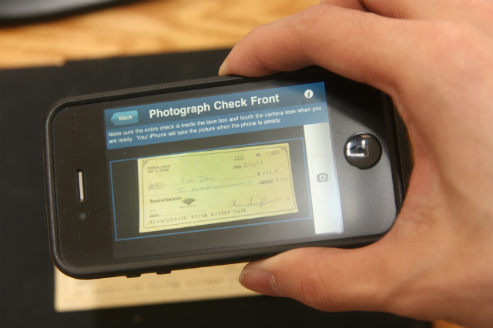 Consumers seem to like mobile technology that lets them deposit checks without visiting a bank branch or ATM. Some folks have the technology right on their smartphones. Many do not — but not for lack of trying. Mobile check deposit is destined to be the standard, but most banking institutions have been slow to adopt it.
Pioneered by USAA Bank in 2009, mobile check deposit entered the banking industry as a "novelty." It was the first time that everyday consumers had the capability to use their smartphones to take photos of a check and have the check deposited remotely.
But it rapidly became a must-have feature that many banks failed to deliver.
By May 2011, a Javelin Strategy & Research study showed that 1 in every 4 consumers and 1 in every 2 mobile banking users wanted mobile deposit. At the time, only 3 of the 10 largest U.S. banks — Chase, U.S. Bank and PNC Bank — offered the service.
"A year ago, two years ago, there had been a debate. I don't think there's a debate anymore. The industry has woken up to the fact that mobile remote deposit capture (RDC) is a very attractive capability to consumers," said Teresa Epperson, a managing director at AlixPartners, a global business-advisory firm.
Switch-happy consumers
The rising appreciation for mobile deposit alone has convinced many consumers to switch to banks that offer the feature.
According to a February 2012 study by AlixPartners, mobile RDC was the leading mobile driver for bank selection. There were 65% of respondents that said they were "at least somewhat likely" to switch banks in order to use mobile deposit.
"I am a long time Bank of America® customer, but I wanted this feature so badly that I opened a Chase account just so I can use that feature," commented Tim Riley in an earlier MyBankTracker article.
Tim is not the only person who has turned to another bank in the hunt for mobile deposit.
Hoards of user reviews in the Apple App Store and Google Android Market show that they want the feature on their mobile banking applications, and they're willing to move their money.
"The consumers who are writing [mobile banking app] reviews are upset and they demand the feature because, from a consumer perspective, it is the ultimate convenience," said James B. DeBello, CEO of Mitek Systems, in a phone interview.
Mitek Systems is the company that developed mobile deposit for USAA Bank and most major financial institutions.
"As a bank today, you can't help but read headlines about Occupy Wall Street, about people switching their bank accounts or leaving the banking system, and you have to be concerned," DeBello added.
In addition to serving a consumer need, mobile deposit plays into the customer retention strategy.
Coming to a bank near you
So far in 2012, a slew of banks have launched remote deposit functionality on their mobile apps. Citibank, Popular Community Bank, EverBank and Bank of Internet USA are just some of the newest banks on the bandwagon.
"We believe [mobile deposit] has become table stakes for all banks and we believe all banks, who have a mobile banking application, will deploy this," DeBello said.
According to Mitek System's fiscal first-quarter earnings report, the company has signed with a total of 250 financial institutions to deploy mobile deposit. Just in the prior quarter, the company had signed with 161 financial institutions.
All of the top five U.S. banks, 8 of the top 10 banks and 25 of the top 40 banks have agreements with Mitek Systems to deploy mobile deposit.
Of the top 10 banks, Chase, Citibank, U.S. Bank and PNC currently offer mobile deposit.
But it's not just financial behemoths who are able to deliver this feature.
Conestoga Bank of Chester Springs, Pa., with a 14-branch network and $477 million in deposits, recently surpassed $1 million in checks deposited through its mobile app. So, small banks are just as able to deliver this feature.
Is it here yet?
Bank of America® said it plans to release mobile deposit for its apps in the second half of 2012 — two years after Chase first released the feature on the iPhone.
Even popular online banks such as ING Direct and Ally Bank, which rely on customer affinity to digital banking, have not released mobile deposit, which is slated for a 2012 launch by both online banks.
"Security, risk management and fraud management concerns are absolutely there and are part of the reason why those who've decided to go slow are going slow. However, the more data we have regarding usage and actual fraud patterns, the more comfortable the industry is going to get with mobile RDC," Epperson said.
These concerns explain why banks limit the dollar amounts of mobile deposits.
Citibank allows customers to deposit up to $1,000 per day and $3,000 per month through a mobile device. EverBank does not disclose its deposit limits.
"It is important to EverBank to protect our customers from fraud, so we prefer to not openly publish our deposit limits," said an EverBank spokesperson.
Furthermore, system integration poses a significant hurdle to banks — contributing to the delay in deployment.
"Anything that touches the core platforms requires a degree of integration. It takes time depending on what that institution has going on," Epperson added.
The threat of fees
After the controversy around Bank of America®'s proposed debit-card fee, consumers are on guard over bank fees. And charging for mobile deposit may be seen by some as the sort of "nickel-and-diming" practice that frustrates consumers.
Currently, U.S. Bank and First Tennessee Bank charge 50 cents and 99 cents per mobile check deposit, respectively.
"For the majority of banks, I don't think they're going to go in that direction. There is much sensitivity out there in the consumer marketplace regarding the addition of fees to the core checking relationship," said Epperson.
In a MyBankTracker poll with more than 1,400 respondents, 18% said they would pay a per-deposit fee for Bank of America®'s mobile deposit feature while 65% said they would not. Another 17% said the decision would vary based on the fee and specific scenarios.
Capturing a young crowd
According to a recent comScore study, nearly one-third of U.S. smartphone users are 18- to 34-years old.
"Every bank is thinking: how do I try to capture the attention — and allegiance — of my next generation of consumers?" said DeBello. "One way that banks are being extraordinarily effective is to offer their services on a mobile banking platform and we see all banks moving in that direction."
Mobile deposit may be one key to acquiring and keeping the younger masses.
"[Banks] are looking for the right formula to engage the consumer in a way that makes the consumer life easier," DeBello added. "What mobile banking speaks to is a new lifestyle habit that is built around mobility and anytime-anywhere convenience."
Tablets are next
For mobile deposit to become a standard for smartphones is not enough — there is also the growing market of tablet computers.
Chase, USAA and Fidelity Investments offer mobile deposit through their native apps for the popular Apple iPad tablet, but the industry as a whole has not yet moved toward deposit via tablet.
That's no surprise given that the early tablets didn't have cameras.
"We're seeing the lag from smartphones to tablets because the tablet cameras are just now becoming capable," said Ann Reichert, director of marketing at Mitek Systems.
"I will argue that every phone and every tablet, from this point on, will have a camera," said DeBello. Mitek Systems can deploy mobile deposit on any mobile device that features a 2-megapixel camera.
Once mobile check deposit is possible on the majority of smartphones and tablets, the service won't be a perk. It'll be a necessity.
DeBello said it best: "We see it as the killer application for mobile banking."
Ask a Question