PayPal Here Launches, Starts Fee War with Square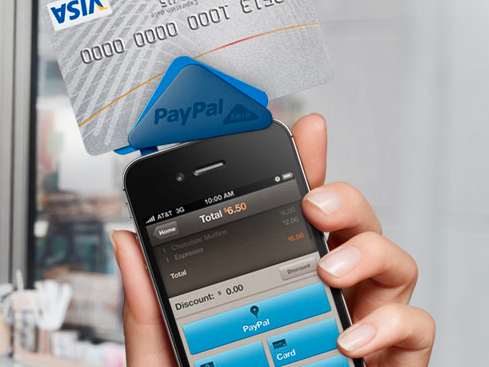 PayPal launched its mobile card reader and app today, called PayPal Here. It's the first serious challenge to Square's dominance in the mobile point-of-sale space so far, and as such they have undercut Square's fees by a smidgin: 2.7% to Square's 2.75%.
In addition to being marginally cheaper, Here works almost exactly like Square, but has a few extra features.
Like Square, PayPal offers merchants a free card reader that plugs into their smartphone or tablet — it's supported by both iPhone and Android — and has an app to go along with it, also free. Unlike Square, Here accepts checks. Utilizing their smartphone's high-res camera, Here allows merchants to make mobile deposits, much like many banks do these days.
And, of course, it accepts PayPay payments, which Square does not. Though it's worth pointing out that Here does not accept Square payments, but Square's market penetration likely pales in comparison to PayPal's. Payments made by PayPal, credit or debit are available immediately on merchants' PayPal account.
A silo-busting approach
With this, PayPal is pushing their PayPal merchant debit card, which offers 1% cash back for certain purchases made through Here — lowering the effective merchant discount rate by a bit, depending on how much users spend.
The debit card is a wise way for PayPal to break down silos between e-commerce and brick-and-mortar businesses for both merchants and users. In doing so, it can potentially compel more customers to keep their money with PayPal, rather than a traditional bank, because of the seamlessness it provides.
Competition will help merchants, consumers
By undercutting Square's rate by 5 basis points, PayPal has also started what could be a race to the bottom for the fees these mobile readers charge. As things stand, merchants typically pay between 1–3% for interchange to Visa and MasterCard. Should they use PayPal Here, they'll pay 3.7–5.7% instead of 3.75–5.75% per transaction with Square. While the difference between these two rates is almost negligible, PayPal does look rather magnanimous by going lower than Square.
But any small merchant who makes the transition from cash-only to accepting credit and debit through one of these mobile card readers runs the risk of eating away their margins should customers switch to paying with cards en masse. But should Square and PayPal drive one another's fees so low that accepting new forms of payment is an unambiguously good decision for a small business, everyone will win out.
An uphill battle for PayPal
"Despite PayPal Here's slightly lower price point, brand recognition, and parent company eBay's dominance in e-commerce," said Nasreen Quibria, a payments expert at Locgica, via email, "I'm not convinced that PayPal can make inroads in the same market as mobile payments pioneer, Square," which dominates the space.
"PayPal has a lot of work ahead to penetrate the point-of-sale mobile payments market, which is becoming rather crowded with Intuit's GoPayment, Verifone's PAYWare, and even several Chinese clones," she added.
A side note on mobile check deposit
Users need either a Premier or a Business account with PayPal to download Here, but anyone can get a Premier Account. Now, customers of banks that do not have mobile deposit can use PayPal to do this. This is the first third-party mobile check deposit system we are aware of, and it's free. Thanks for nothing, Bank of America.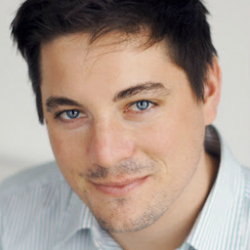 Willy Staley is a staff writer and columnist for MyBankTracker.com. His columns focus on banking, monetary policy and culture.
Ask a Question