Apple Enters the Mobile Payments Space with iWallet
Will Apple once again change how we live? The iWallet surely looks to have the tools to do so. On March 20, Apple took a huge leap toward solidifying their plans of conquering the mobile payments space, with a number of patents being granted in relation to what they are calling iWallet.
Originally filed in 2009, the new technology called "iWallet", has been approved just in time for a Q4 release and inclusion in the upcoming iPhone 5. First reported by Patently Apple, a website that specializes in patents filled or granted to Apple, iWallet is designed to give iPhone users a way to completely control their financial accounts, while using near-field communication (NFC) technology to complete mobile transactions.
In reviewing the patent logs, it's apparent Apple is taking a different method to mobile payments compared with current offerings such as Google and PayPal. Instead of focusing on an advertising-like model, with loyalty rewards and deals like Google Wallet offers, or promoting cross-platform capabilities and the ability to avoiding checkout lines, as PayPal is attempting, Apple emphasizes security.
That's a smart move, as a recent Federal Reserve study found almost half (42%) of mobile users did not use mobile payments because of a perceived lack of security.
Apple explains their approach by noting that purchases with physical cards require several security mechanisms to deter fraud. The costs of these protections are passed on to the consumer through higher prices on goods, services and banking fees. With iWallet's real-time authorizations, Apple believes it can address these issues sooner, reducing some of the layers and costs of security.
Apple iWallet Features
Credit Card Profiles: As with most mobile payment platforms, iWallet will allow you to connect all of your credit cards. It seems debit, gift and prepaid cards won't be allowed at first, but iTunes will be. And thus any card you have applied to your iTunes account will be available as well.
Users will also be able to acces monthly statements, alerts and set limits for credit cards they've uploaded. What makes each credit card profile unique is that users can also view purchase details.
Automatic Approval and Flagging Options: For parents who have always be hesitant about giving their child a mobile payment option, iWallet may be the solution. While iWallet turns your phone into a digital credit card, it also offers secured approval mechanisms that come with parental controls. Now parents or users can customize their iWallet to set spending limits and allow transactions only at approved retailers.
Going one step further, an alert will be set to the parent's iPhone to approve a transaction in near real time.
In cases where the purchase seems fraudulent, the user can flag it and instantly notify their bank, who will contact the card holder to find a solution.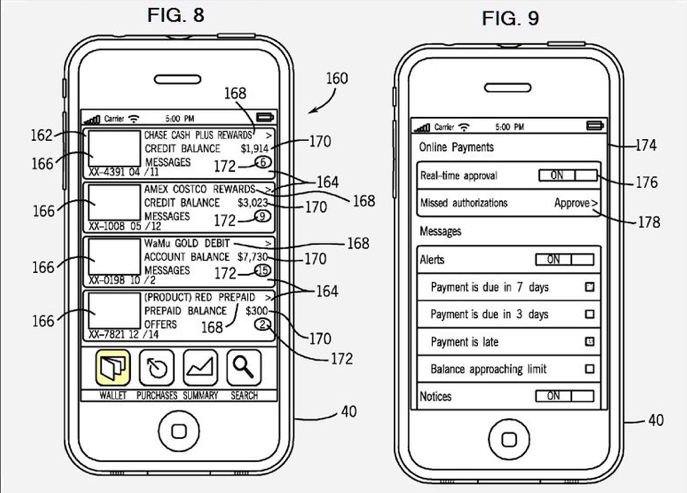 Will People Accept Apple
The idea of Apple replacing today's traditional bank is something many consumers, especially Apple fans, would celebrate. In fact, according to a survey by KAE and Toluna of more than 5,000 respondents in the U.S. and England, 1 in 10 people would consider making Apple their primary bank. Among current Apple customers, that number jumps to 43 percent.
Another study from Javelin Strategy found that while consumers see Apple as the most innovative company (32 percnet), beating out, Google, Amazon, Facebook, along with Visa, Mastercard and traditional banks. Consumers did not trust the mega tech company with their financial information (5 percent) or privacy (7 percent.)
Even still, the idea of Apple becoming a bank is something that many industry researches consider a bad move. In a recent MyBankTracker.com article on the topic, The Financial Brand shared their thoughts:
Never gonna happen. No way on earth would Apple ever expose its brand to the consumer bile inherent in banking. The last thing Apple wants to see is all the love turn to hate, no matter how much money may be on the table. Apple only dabbles in industries that manufacture sexy things people want, not icky things people need. Keep in mind, in the financial industry, there is a huge difference between a company that facilitates payments (like Amex or PayPal) and true banking providers (who offer CDs, loans, credit cards).
But what does make sense is for Apple to do what other mega tech companies are attempting — become a leader in the payment space, eclipsing traditional brands such as Visa, American Express and the nations largest banks.
Ask a Question