Which Mobile Reader Will Win the Battle for Merchants?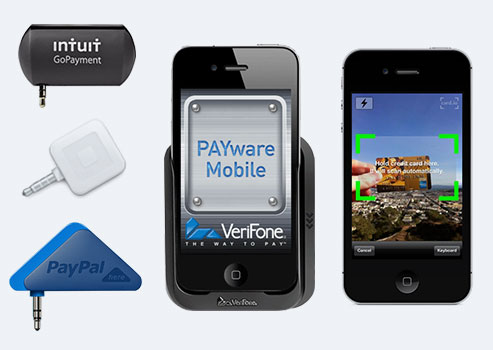 You can hardly swing a dead cat around on the Internet without hitting a new mobile credit card swipe dongle. They all work pretty similarly: you plug it into the headphone jack on your iPhone, install an app, and swipe away. They all charge their own fees to merchants and have their own pros and cons. It's hard to know what's what sometimes, and for that very reason we've put them all side-by-side for you to judge.
Newcomers to the space tend to have simple fee structures and design, while the more established POS players stick to their more arcane formulas. Generally speaking, the newcomers pursue small businesses that have low volume (all of these players, for whatever reason, show themselves in coffee shops in their marketing materials). The more established players — PAYware Mobile from VeriFone is our sole example — have flexible pricing packages to work for merchants both big and small. That said, they are not as concerned with increasing their market penetration, already established as they are, so they cannot offer the free readers that newer startups can.
Square is in the business of giving away readers to sell payments-processing services, which is a completely different strategy from VeriFone, for whom selling terminals is part of the business.
May the best dongle win
And Square, founded by Twitter creator Jack Dorsey, is arguably the leader in the space. The Obama campaign uses it for fundraising, and it process more than $4 billion in payments a year. It's quite dominant, but that doesn't mean it's necessarily the best. In fact, it charges 5 basis points more than GoPayment from Intuit, the company that brought us Quicken and TurboTax. PayPal's Here undercuts Square by the same amount. Square benefits from its founder's cachet and its early adoption among influential users that such a level of cachet can lead to.
That said, value proposition will beat cachet over the long-run in a space like payments processing, which is all about value. In that spirit, here's a look at the different offerings below:
| Feature | Square | GoPayment | Card.io | PayPal Here | PAYware Mobile |
| --- | --- | --- | --- | --- | --- |
| Shape | Square (duh) | Cylinder | N/A | Triangle | iPhone-shaped |
| Compatible With | iPhone, iPad, Android | iPhone, iPad, Android | iPhone, iPad, Android | iPhone, iPad, Android | iPhone |
| Hardware Costs | Free | Free | Free | Free | $29-$150 |
| Swipe Fee | 2.75% | 2.7% OR $12.95 a month + 1.7% | N/A | 2.7% | High Volume: $19.99 monthly, 1.65% + $0.17 per transaction (card reader free with $29 activation fee); Low Volume (<1,500 transactions/month): 2.75% + $0.15 (card reader is $99) |
| Non-Swipe Fee | | 3.7% OR 2.7% w monthly plan | | | N/A |
| Extras? | Card Case allows for no-swipe proximity-enabled payments, customer rewards platforms. iPad POS app runs analytics on sales. | Syncs with Quickbooks easy bookkeeping. | None | Live customer support. Links with PayPal account, and can link with PayPal prepaid card, which gives 1% cash back. | Online management tools. |
Competition heats up
PayPal is the undisputed leader in online payments so it makes sense that they would expand into this market. The PayPal Here, which launched in March, unites e-commerce with brick-and-mortar in an elegant and seamless fashion. Other player's futures are not so certain. Card.io, for example, is different from the others in the space because it doesn't have a physical card reader. Instead, users simply take pictures of the cards to scan them. This likely explains the high fees. Anyone using Card.io likely pays card-not-present fees because of this. Given that most readers are free as loss-leaders, Card.io is positioned to lose this battle.
However, Card.io has partnered up with PayPal to bring Here to market. Their software powers the PayPal app's back end, PayPal's reader helps reduce the interchange fees merchants pay. It seems unlikely that Card.io would survive on its own otherwise.
GoPayment is alone among the disruptive start-up payments processors in offering a monthly pricing plan, one which charges lower swipe fees in exchange for a flat-fee of just under $13. This could potentially help GoPayment attract larger clients. Also, it could be the case that larger clients have no need for these iPhone-based readers, already having high-quality, durable POS terminals installed. The space is new, so this will likely take a long time to shake out.
Regardless, older players will have to learn to innovate and get leaner if they want to keep up with newcomers in the space.
Ask a Question