Mint Concept: Check Your Balances on Your Watch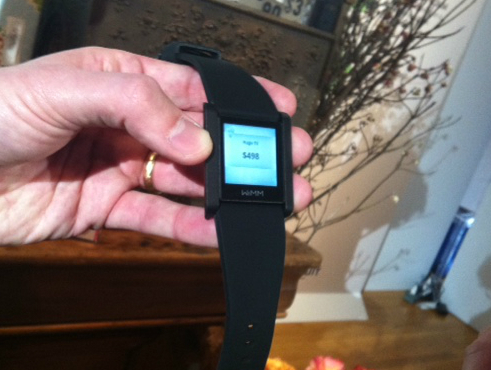 Your Mint account could be accessed through the watch on your wrist. The chance of it becoming reality is still up in the air, but Mint is certainly playing with the idea, as the company showed off its MicroMint application at Intuit's Innovation Gallery Walk yesterday.
The MicroMint app was installed in a WIMM One smartwatch, which is basically a small Wi-Fi enabled computer that can be attached to a watch strap. The WIMM One gizmo is Android-based and is capable of running other micro-applications.
The functionality of Mint's personal financial management (PFM) tool varies depending on the gadget through which it is accessed. On a desktop computer, users get the full range of features offered by Mint. The smaller the screen, the fewer the tools that are available.
On WIMM One's one inch by one inch touchscreen, MicroMint only lets users view the balances on their aggregated financial accounts — no budget-tracking or transaction activity. For many users, it is the most convenient and most used Mint feature to find out if they have enough money to make a purchase or pay a bill.
The MicroMint apps simply offers a quicker way, compared to smartphones, to get a snapshot of one's finances.
At the moment, the MicroMint app is a concept — there are no concrete plans for a launch and the possibilities for deployment have not been set.
Sony's SmartWatch is an Android-powered watch that would be capable of running MicroMint. Mint won't even rule out an availability on the iPod Nano, which sports a touchscreen but does not currently allow third-party apps.
As near-field communications (NFC) technology reaches these smartwatches, Mint may expand functionality for users.
Ask a Question