Pay Your Bills With Your iPhone Camera: Intuit's EasyBill
Do you still actually receive paper bills and pay them with actual, corporeal checks? Well we feel terribly sorry for you, there are many better options these days. But if you're not quite ready to move your bill payment to automated, online options, Intuit will be launching a neat little product this summer: EasyBill. We got a look at it last week at Intuit's Innovation Gallery Walk, and we were pretty impressed.
EasyBill uses your smartphone's camera to gather important data from paper or email bills, and pulls them into a simple form. From a snapshot of the bill, EasyBill pulls out the payee's address, your account number, the amount due and the due date for the payment.
Users simply snap a picture of their bill and EasyBill extracts this data in a matter of seconds. In the event that EasyBill gets the numbers mixed up — god forbid your account number and amount due get switched — users can fix that with a few finger flicks. The app shows you where it pulled info from on the image, and if it's wrong, it is easily corrected with a few finger flicks. Furthermore, this data stays on your phone. It doesn't need to interact with any servers at this point, making it an efficient little program.
This works for email bills, too. Pull a .pdf file out of email and load it into EasyBill, and it will extract the same data.
Once all four data fields — payee address, account number, amount due and due date — are verified by the user, there's a small green "Pay" button at the bottom of the screen. Hit it, and EasyBill gets online and fulfills the payment through your connected checking account.
The app is simple and elegant, and can save plenty of time for those uninterested in punching in data online. If you simply don't want to pay your bills online or set up auto payment from your checking account, then EasyBill is a timesaver. It works for any kind of payee, even those that only accept paper checks, according to a spokesperson.
"It works with any biller. Today, a bank or CU's online payment services already can send payments electronically or paper check depending on what the payee can accept," he wrote in an email. "EasyBill simply takes the work out of uploading payees to your bank or credit union's online bill payment service."
All you need is an bank account that is set up for online bill pay, EasyBill piggybacks on that service, and cuts clutter out of your life — sort of. Not the paper bills, necessarily, but definitely the paper checks. Check out a screenshot below: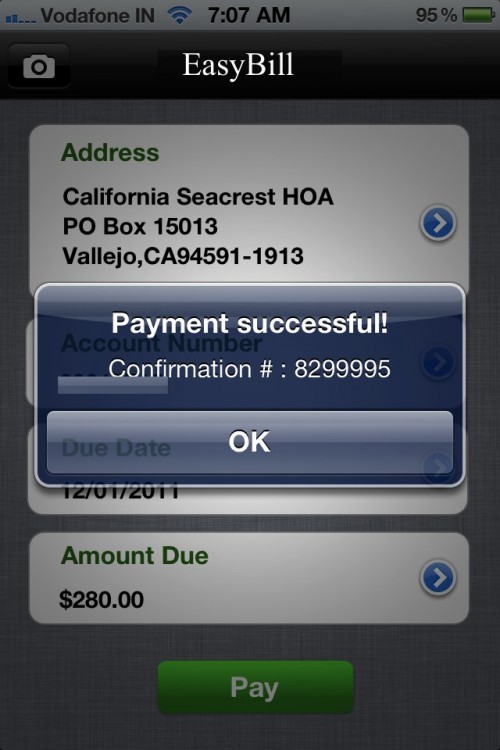 Ask a Question