Intuit Positioned at the Foundation of the Digital Banking Movement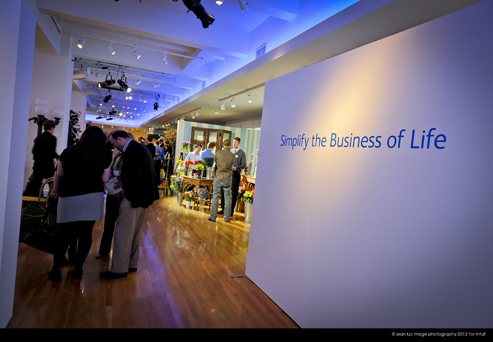 Last week, the MyBankTracker team had the opportunity to visit the annual innovation gallery of Intuit, the financial-services company and creator of Quicken and Turbo Tax. After checking out the latest gadgets and products, and speaking to their Vice President and General Manager, CeCe Morken, it was apparent that this tech company was taking a different approach to owning the future of digital banking.
If we consider the buzz surrounding tech companies such as Square, Google, Facebook, Dwolla and probably soon enough Apple, why wouldn't three-decade-old Intuit throw its hat in the ring? Well in some cases, like its credit-reader GoPayment, it has. But in other area, they seem more focused on playing the supporting role versus the lead. Where most tech companies are trying to step over the banks and become the middleman, Intuit is helping banks stay at the fore.
Technology takes two paths to banking
If we step back and look at how technology is disrupting finance, we can see that there are two fundamental paths being created. The first — and this is where MyBankTracker exists — help consumers compare products, find answers and make smarter money decisions. The second — and probably the more disruptive path — alters how consumers move money, make payments, analyze spending and interact with financial institutions and merchants.
Enter Intuit, the financial-tech services company that has helped banks and credit unions scale their digital experiences through partnership or white-labeled PFM's (FinanceWorks), online banking platforms and debit-reward programs (partnership with Cardlytics). In speaking with Morken, it's apparent that Intuit sees this growing shift to a fully digital experience as a way to give banks the necessary tools to keep their position with consumers. It's an approach that may be more strategic then it appears.
As we found in a recent study from Javelin Strategy, companies like Apple and Google are seen to be more innovative, but financial institutions score much better among their own customers, receiving the highest rankings in security, protecting private information and even innovation. In fact, 37% of Chase members think their bank is the most innovative, with only 35% of the same members feeling Apple was more innovative.
Intuit offers banks a way to keep up
Let's consider such stats to be the norm, then in Intuit's case, their backbone partnership approach could be the winning solution. In particular one category that jumped out was their plans on tackling the mobile wallet. Debuting at last years event, their mobile wallet was absent this time around, but Morken did share the company's plan to launch the platform in the fourth quarter of this year. As with Google Wallet, ISIS and eventually Apple with their iWallet, Intuit's mobile wallet will support the tap and pay method that is near-field communication (NFC) technology.
Morken seemed very excited by this upcoming project, as the company feels its approach addresses an issue in the mobile payments space: 90 percent of people who use mobile banking to check their balance (FDIC) aren't looking to see how much money they have, they're checking to see if they can afford a purchase they want to make.
Intuit seems to be the first to offer banks and credit unions a way to integrate mobile payments into their already growing mobile applications. Seems logical, and I'm surprised it hasn't already happened. Heck, most banks that have mobile deposit are already white labeling some third party developer.
Just maybe the outlier that has kept the digital evolution of banking at bay is that consumers don't need (read: want) a new middleman who they may or may not trust. Instead they're waiting for their bank to innovate and build out their digital banking experiences.
Ask a Question