New Dynamics Credit Card Tech Lets You Pick the Rewards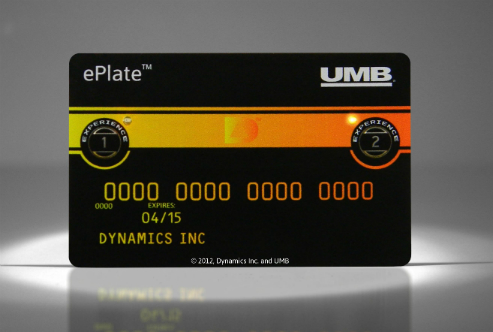 With just the push of a button, UMB Bank credit card users will be able to choose the rewards experience that they receive for every purchase. The feature is powered by Dynamics' ePlate device, which is the company's latest credit-card technology to be introduced.
"The ePlate device gives the user the ability to personalize their payment experience in a way never before envisioned while earning exclusive content across the world's first developer ecosystem for payments," said Jeff Mullen, CEO of Dynamics, in a prepared statement.
On the credit card, there are two buttons that are linked to the cardmember's chosen rewards experience. The user can set the reward for each of the two buttons through a mobile phone or the bank's website. When the cardholder makes a purchase, the selected rewards will be received.
Currently, the rewards include points for comic books, trading cards, games, statement credits and charitable donations.
For example, Dark Horse Comics, one of Dynamics' rewards providers, allows UMB cardmembers to earn one page of a comic book for every $45 spent, one Dark Horse Point (redeemable for digital comics) for every $1 spent and the option to add an additional $1 charge to receive three more pages of a digital comic book. A digital issue can be redeemed once all the pages are collected.
According to UMB Bank's website, the UMB Visa Platinum Rewards card is the only UMB-branded credit card issued by the bank. There was no mention of when UMB cardmembers will get the new cards or how many cardmembers will receive them.
A UMB Bank spokesperson did not reply to a request for comment.
The credit card with Dynamics' ePlate device is as durable as traditional plastic cards and its battery lasts longer than four years, according to the company.
The new technology is not the first innovation by the Dynamics. The company is more known for its second-generation credit card technology, which allows credit card users to choose whether they want to use regular credit or their reward points to pay for a purchase. Dynamics is currently testing the new card technology with Citi.
Ask a Question