Why You Should Follow Your Credit Card Issuer on Twitter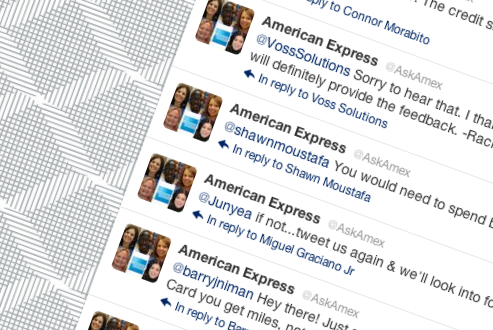 If you want to get the most out of your credit card, you should follow your issuer on Twitter. Companies are increasingly using the social network to enhance existing products and stay ahead of their competitors. Here's a look at what a good follow can now net you.
Extra discounts and rewards
Following a credit card issuer on Twitter is the quickest way to find out about special promotions, bonus offers and extra rewards earning potential. Discover, for instance, is particularly diligent about advertising special sales going on its ShopDiscover bonus mall. (A recent tweet advertised 5% cash back at Lowe's.)
Some rewards are earned through the social network itself. American Express recently launched a feature that allows cardholders to sync their cards to their Twitter account in order to earn deals at participating retailers, but they're not the only issuer to offer discounts via specified hashtags. MasterCard, for instance, ran a promotion earlier this year that let New York City foodies get a free lunch at a popular food truck by tweeting #PricelessNY.
Speedy customer service
If you're having a problem with your issuer, you might want to take it up Twitter. The public nature of the social network – you're effectively putting your bank on blast – can lead to some very speedy responses. While banks and issuers may not love the negative attention, adapting to the changes in technology is necessary.
"Similar to airlines, banks should treat Twitter like a listening tool, and use it to quickly and efficiently connect to customers," Megan Hargroder, Social Media Strategist/Problem Solver at Conversations, LLC said in an earlier MyBankTracker article.
Per the rules of Twitter, you don't need to be following your issuer to tweet a complaint at them. However, you will need to follow them to send a direct message with your personal information, a request many companies will make in order to close out the complaint.
But becoming a follower does have other advantages. You'll also be able to find out if technical glitches you may be experiencing are related to a larger issue, such as a system failure or a data breach.
Keep in mind, many issuers have separate customer service Twitter handles. Chase, which just joined the social network in February, tweets company announcements from @ChaseNews, but uses @ChaseSupport to troubleshoot customer service issues. Amex uses a similar strategy tweeting about company news and promotions from @AmericanExpress, while fielding customer questions via its @AskAmex handle. Bank of America actually has six Twitter accounts at its disposal.
Financial Literacy Tools
Twitter is also a great place to learn about web tools you didn't realize your credit card issuer offered. Visa, for instance, regularly advertises Financial Football, an online game designed to help kids learn about money as they set up football plays, via its @VisaNews handle.
Some issuers also offer financial advice through their Twitter accounts. @Ask_WellsFargo, the bank's designated customer service account, is particularly diligent about doing so.
"Signing off for the night," the bank recently tweeted. "Review account statements carefully to look for suspicious/unknown transactions."
Ask a Question