Barclaycard to Offer NFC Sticker to Millions in the UK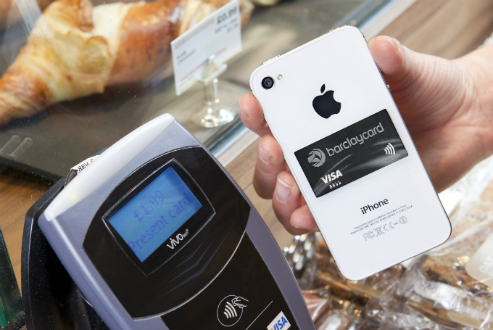 In the U.K., Barclay is offering near-field communications (NFC) through a sticker that you place on your mobile phone — an approach that differs dramatically from the device-native functionality that has been the focus for telecoms, tech giants and financial companies in the U.S.
Called PayTag, the NFC-enabled sticker allows Barclaycard members to make contactless payments — more commonly known as "tap-to-pay" or "wave-to-pay" capability. The PayTag sticker is one-third the size of a regular credit card and is attached to the back of a mobile device. "U.S. consumers won't get a chance to use the technology — at least not yet. "Barclaycard US has not announced plans to bring such payment technology to the U.S. market, but we're looking very closely at it for future implementation," said Kevin Sullivan, a Barclaycard US spokesperson.
The free PayTag sticker will initially be available to an exclusive group of cardmembers in coming weeks but it will eventually be available to all Barclaycard customers in the U.K. by the end of the year.
"We are offering the choice of mobile payments to millions of our customers at no additional cost to them," said David Chan, CEO of Barclaycard Consumer Europe, in a prepared statement. "More than half of us say that the item we're most lost without is our mobile phone, so we're giving people the option of using them to make easy, convenient, everyday payments without the need to upgrade their current handset."
Mobile wallets and NFC could replace cash and credit cards for everyday purchases by 2020, according to a study by Elon University's Imagining the Internet Center and the Pew Research Center's Internet & American Life Project.
On the phone, not in it
The Barclaycard PayTag represents a different approach than what is taken by various industries in the U.S., which is home to a competitive race for the first to revolutionize mobile payments.
Notable mobile wallet ventures from Google and major mobile carriers rely heavily on built-in hardware that will offer NFC functionality.
Launched in September 2011, Google Wallet is currently supported on two smartphones on the Sprint network. Meanwhile, the three largest mobile carriers in the U.S. — Verizon Wireless, AT&T and T-Mobile — teamed up on a project called "ISIS", which is scheduled to be piloted this summer. Other players in the space, such as PayPal and Visa, offer a mixed bag of mobile payment options, including NFC.
The introduction of the PayTag sticker may help boost adoption of NFC in the U.S. while companies strive to release the technology natively in mobile hardware.
This year, Barclays — parent to Barclaycard UK and Barclaycard US — has made strides in the U.S. with the launch of an online banking division and the first "social" credit card.
Ask a Question