Ally Bank Debuts Mobile Banking Apps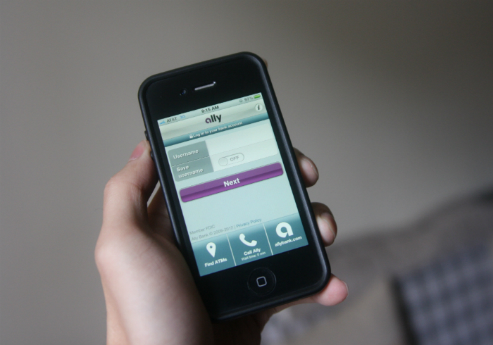 The competition between online banks is ramping up. Ally Bank has launched the first versions of its mobile banking applications for Apple iPhone and Google Android devices, as promised.
The arrival of the mobile apps is likely to please a large number of Ally customers who've been patiently waiting for the ability to access their accounts through their smartphones, which became extremely popular — almost a necessity — among consumers.
Ally Bank, known for low fees and competitive interest rates, holds $41.3 billion in consumer deposits as of Dec. 31, 2011, an increase of nearly 38% from the end of 2009.
"We've been testing internally and expect to conduct an employee pilot prior to launch," Beth Coggins, an Ally spokesperson, told MyBankTracker last month.
The Ally Mobile Banking apps allow customers to check their balances, view transaction history, transfer funds and locate ATMs using GPS — capabilities that are standard for the initial iterations of most mobile banking apps.
Ally does offer two features that are rarely found in other banking apps: the wait time for customer phone support and display of daily interest accrued.
"Glad this app is finally available. Now I can check my balances without having to log online via mobile Internet. Waiting on other features to become available, but if you have an Ally accounts, it's good thus far," said one reviewer in the Apple App Store.
Ally also unveiled a separate mobile app that is strictly dedicated to locating ATMs and cash-back locations. These cash-back locations indicate merchants at which customers can request that a cash amount be added to a purchase and receive cash.
Although many Ally customers welcome the mobile banking apps, others are expecting more — especially mobile check deposit.
"I've been waiting like two years for this and there still isn't a way to deposit checks! Good start though," said another review in the Apple App Store.
The ability to deposit paper checks by taking images with a smartphone has become one of the most-wanted features of mobile banking. Earlier this week ING Direct unveiled its long-awaited mobile check deposit feature. According to a February study by AlixPartners, a global business-advisory firm, 65% of consumers said they were "at least somewhat likely" to switch banks in order to use mobile deposit.
Currently, Ally offers its eCheck Deposit service, which lets customers deposit checks through a scanner.
Ally said that mobile check deposit, person-to-person (P2P) payments, electronic bill pay and more will be coming later this year. BlackBerry and Windows Phone users can also expect native Ally mobile banking apps by the end of the year.
Ask a Question