Google Wallet Now Supported on Three New Smartphones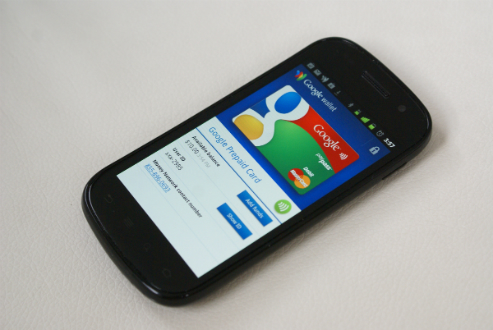 Google (NYSE: GOOG) is rejoicing at the launch of three new smartphones that support the search-engine giant's mobile payments application – Google Wallet. The mobile wallet faces slow adoption amid a competitive race to revolutionize how consumers make purchases in the future. So, the expanded availability of Google Wallet may contribute to its success.
Originally launched in September 2011, Google Wallet had been found only on Sprint's Nexus S 4G smartphone.
Now, the Samsung Galaxy Nexus, LG Viper 4G LTE and LG Optimus Elite join the list of smartphones that carry the mobile wallet.
An unlocked version of the Galaxy Nexus, which is not tied to a mobile-carrier contract, is available through the Google Play store.
"It also comes pre-installed with the Google Wallet app which lets you easily make purchases and redeem offers with a tap of your phone," said Andy Rubin, senior vice president and mobile and digital content at Google, in a Google Mobile Blog post. "Best of all, we'll give you a $10 credit to get you started with your new mobile wallet."
Also, all three of the new smartphones will be available through Sprint and only the LG Optimus Elite is available through Virgin Mobile.
Google Wallet uses a mobile device's near-field communications hardware to make contactless transactions, also known as "tap-to-pay" or "wave-to-pay" transactions.
Adoption headwinds
Despite being an early entrant in the race of mobile wallets, Google encountered a slow rate of adoption.
In addition to being only on one smartphone, only Citi MasterCard customers can link their cards to Google Wallet. However, Google does offer a default prepaid card that can be funded by any other credit card.
Google is considering revenue-sharing plans to incentivize mobile carriers to offer the mobile wallet system. Or, the tech behemoth may install additional hardware and software at retailers to process Google Wallet transactions.
Google said that up to 12 new smartphones will be released this year to power the mobile wallet.
Meanwhile, a mobile wallet venture — called ISIS — by Verizon Wireless, AT&T and T-Mobile USA stands as Google Wallet's most prominent competitor. ISIS has the partnership of Chase, Capital One, Barclaycard and six major mobile-device makers. The ISIS Mobile Wallet is slated for a pilot this summer in Austin, Texas and Salt Lake City, Utah.
Ask a Question