State Farm Offers Coffee, Yoga and Free Advice to Reach Gen Y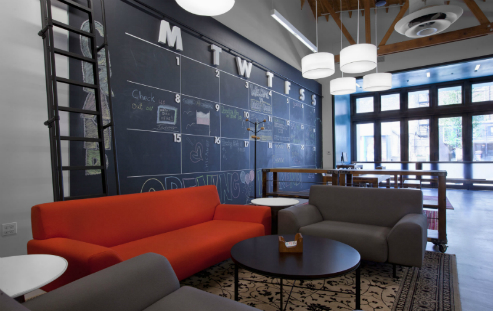 Tuesday night, from 6:00-7:00, is "Startup Boot Camp." Next up is the "Running Club." The day before was "Unstudy Night," with one of the colleges downtown. The next Tuesday, it's Budokon yoga, after another morning session of "Teaching kids about money." Sunday is open mic night.
Each event is scrawled, in a bubbly script, on a giant chalkboard calendar that spans half of the wall at the Next Door Cafe. Two doors down from the Lincoln Park Trader Joe's, next to the Express store, this is State Farm's newest experiment—part coffee shop, part financial planning hub, part community center.
Launched last August, the café is geared, as its calendar makes clear, for my generation. With no precedent before it, the spot is, if anything, a carefully tailored gamble.
Apart from the chalkboard, and a front desk manned by unassuming young attendants, the place feels like any other upscale coffee shop. The main room has five oak tables, several couches and loveseats and a tall bookshelf. The baristas are pierced and tattooed. Lining one wall are photographs of mountains, cityscapes, a wispy brunette. On a Sunday afternoon, a couple dozen visitors filled the cafe, most with their heads buried in MacBooks. The music shifted from the Beatles to Bob Dylan to Don McLean's American Pie.
A bit of a stretch
Even for Chicago, where we like our bars and coffee shops roomier than those on the coasts, the place is expansive. Daniel, 42, an actor visiting from New York, agreed. A friend he was staying with nearby recommended the spot—"the best coffee in the city," she advised. In New York, Daniel said, "you're not going to find a place where you can stretch out."
Past the coffee bar is a wider space with a few more small tables, a row of lockers, and two well-equipped conference rooms, available for renting. This section is more business-school lounge than packed cafe.
Between the two spaces sit two small cubicles. Each has a table large enough for a laptop and little else. Plush curtains pull back revealing two even plusher seats in an L-shape. The cubicles look remarkably like dressing rooms.
Brett Myers, Next Door's program director, invited me inside one. He was fresh off a call planning the café's first major summer event. He described it as a hodgepodge of financial workshops, speakers and sessions, intended for "anyone who wants to take their idea or whatever they're working on to the next level." It's called "Amplified."
That sort of consciously hip language permeates everything at Next Door. The website explains the café's origins in a State Farm office: "you know, the SF that's been in the protecting-your-stuff biz since 1922." When you sign up for a financial advising session, the terms of use contract apologizes for the coming "wordapalooza." Once registered, a confirmation email warns you not to reply lest you take a lack of response as a sign of the café's inattentiveness: "We're SO home!"
Next Door employs two financial "coaches" who schedule these individual sessions on a range of topics. They're trained professionals, but their primary objective is not to pitch insurance but to build a friendly rapport.
"Instead of talking to people the way banks or the way insurance companies talk," Myers said, "we're trying to talk the way people talk—which seems like a 'No duh' thing. But it doesn't happen that much."
Sappy, but genuine
The patois is refreshing, but it can come off as bit contrived. Some of the café's materials ring of corporate sloganeering, workshopped to appeal to 20-somethings. The effect is sometimes cheesy ("Time to put the 'u' in community!"). To accept my free wi-fi connection, I had to first click a button demanding the browser "hook me up." And it's easy to spot the effort to tap into what Brett calls "coffee shop culture." The slang, the yoga, the Nutella crepes all felt a little too market researched and rehearsed.
I, like many others that walk through the doors below the State Farm logo, was waiting for "the catch."
Yet the staff is trying desperately to prove there isn't one. And the efforts, though sappy at times, come off as genuine.
For remote employees or freelancers, the conference rooms and resources are quite attractive. All of the classes are free; as are sessions with coaches, who don't have any sales incentive. In fact, Myers claimed, the advisers are meant to push customers to arrive at sound decisions on their own—he calls them "accountability partners." Theirs is a teach-a-man-to-fish approach to financial planning.
Signing up for a session, you can select a focus on improving savings, getting out of debt or planning for retirement. Every one of those is a conversation that I know I should have. Yet I disdain and delay them, in part, perhaps, because they bring to mind shifty men in bad suits and ugly offices. I probably will not show up for an open mic night at Next Door. But I'd certainly prefer to have this money talk with someone in jeans, drinking coffee.
When I asked how many customers had gone through coaching sessions since August, Myers offered, "about a hundred or so," but he quickly rounded up. Wrapped around the front desk is a small chalkboard that reads, "Who's available for coaching." On Sunday afternoon, there were no names listed. When I returned the next morning, the board was still blank.
But the sessions aren't the metric that Next Door uses. Instead, they are focused on deciphering the financial interests of anyone that walks in, and then throwing together events that meet those. In recent months, they've created classes on handling student loans, starting a small business, and managing SEO.
"People are really unsure at first," Myers said, noting that, in looking for "the catch," I wasn't alone. "But when they get in and figure out what we're doing, the more they hear about it, they seem to like it."
I chatted with Ben, a 36-year old social worker reading a book by the front window. He is a fan of what they were doing. "I like that it's free," he said of the financial classes, though he noted that he wasn't in such straits to require them. It wasn't the coaching or community programs that initially drew him in. "I noticed something about coffee," he said.
Next Door could easily spread to other parts of Chicago, Ben suggested. But with no immediate impact on State Farm's bottom line, it's difficult to see a rapid expansion in the future. And it's hard to picture the café operating the same way outside of one of the city's wealthiest, whitest neighborhoods.
"This is it for now," Brett said, when I asked if they had plans for another opening. "We don't want to get ahead of ourselves until we figure out what this is."
Ask a Question