U.S. Bank iPad App Released With Mobile Deposit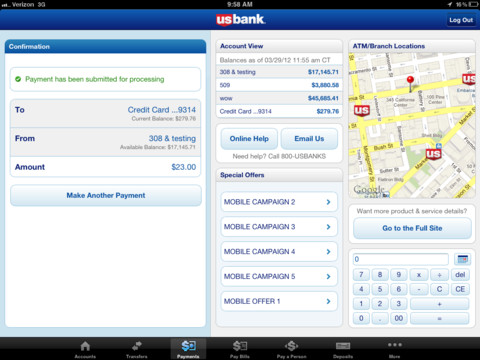 U.S. Bank is the latest megabank to launch a native mobile banking application for the popular Apple iPad tablet device. U.S. Bank's design approach differs from the iPad apps from other major banks by offering greater functionality.
Not surprisingly, the U.S. Bank iPad app allows customers to check accounts balances, view transaction history, transfer funds, pay bills and locate branches and ATMs — capabilities that have become the standard for mobile banking.
Other interesting features on the app are person-to-person payments and mobile check deposit (not available on the first generation of the iPad, which doesn't have a camera.) U.S. Bank is the second bank, behind Chase, to offer mobile deposit on the iPad.
The app takes advantage of the increased screen real estate to offer a dashboard interface, where a customer can access other tools and functions without having to switch through different tabs.
A portion of the screen changes as the customer performs different functions such as transferring funds or paying a bill. The remaining portion of the screen, which always shows account balances, special offers, ATM/branch finder, a calculator and contact information.
The special offers section will likely feature merchant-funded offers available through a partnership with FreeMonee. Announced in April, these offers are personalized cash incentives for U.S. cardholders to shop at major retailers.
The layout reduces the need for a customer to switch to different tabs.
For example, a customer may want to find out how much he has in a U.S. Bank checking account to see if he can pay off a U.S. Bank credit card. He doesn't have to sift through the tabs to figure that amount because the balances and a handy calculator is easily accessible from the same screen.
Most of the other mobile banking apps on the iPad feature single functions on a single screen.
U.S. Bank is the fifth-largest U.S. Bank by deposits.
Ask a Question