Mobile Check Deposit Is Coming to Prepaid Card Users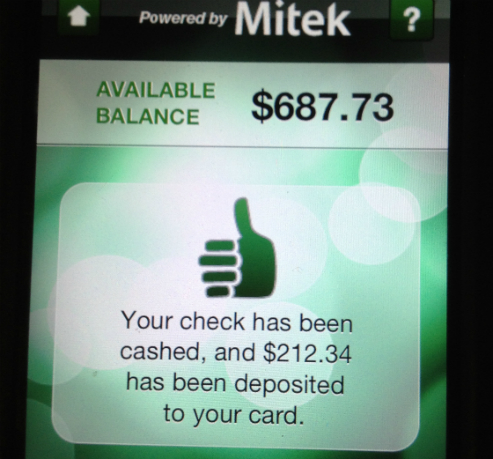 The line separating prepaid card accounts and checking accounts continues to fade. The latest development is one that gives prepaid card users the ability to deposit checks by mobile phone. Mitek Systems, known for powering mobile-check deposits for the biggest U.S. banks, is now offering its popular technology to prepaid-card companies.
"Just as smartphones are the fastest growing segment in the telecom industry, prepaid is the fastest growing segment in the payments industry," said James B. DeBello, CEO of Mitek Systems, during a presentation at a financial-technology conference in San Francisco. "So, we've decided to marry the two."
Mitek Systems introduced the Mobile Check Cashing application, which functions like typical mobile check deposit — a customer uses a smartphone to take photos of the front and backs sides of an endorsed paper check. The funds are loaded into the prepaid card account.
However, a check depositor is also required to snap a photo of his or her driver's license to validate the customer and to reduce risk to issuers. This step is not found in bank apps.
Mobile check cashing caters to an expanding prepaid card market that targets unbanked and underbanked Americans. There are 60 million Americans who fall under that category, according to the Federal Reserve. And, don't forget the population who, as DeBello calls them, are "unhappily banked."
Convenience & lower costs
Most prepaid card do not offer check deposits as a method of reloading the account — direct deposit and online bank transfer are the most common options that are free. (Walmart allows deposits of certain types of checks with no fees.) Also, prepaid card users can purchase a reload card with cash, but that usually comes with a fee.
Cashing a check at Walmart costs $3 to $6, while mom-and-pop check-cashing facilities usually charge a fee equivalent to a small percentage of the check amount.
Mobile check cashing introduces a way to directly load funds from a check into a prepaid card, possibly for a fee. It is not as bad as it sounds. "In addition to the convenience, there is the potential of lower fees," DeBello said in a phone interview.
Prepaid card customers can avoid paying to cash a check and then paying again to purchase a reload card.
Some banks already charge for mobile check deposit — U.S. Bank and BB&T charges 50 cents per mobile check deposit.
Mitek Systems is currently in "deep talks" with several major prepaid program managers, reload networks providers and current partners to offer mobile check cashing, DeBello said. DeBello could not share more details due to non-disclosure agreements.
Mitek Systems has partnerships with 250 U.S. financial institutions, including 8 of the 10 largest U.S. banks.
Ask a Question