ING Direct Tool Helps Set Savings Goals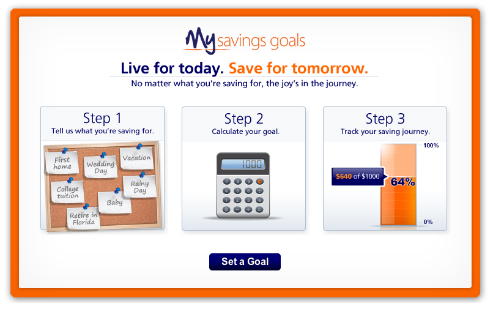 To help customers stay on track with their savings goals, ING Direct has launched a new feature — fittingly named "My Savings Goals" — for Orange Savings and Kids Savings accounts.
"We want 2012 to be the year saving becomes less of a chore and more a celebrated lifestyle," said Jim Kelly, head of direct bank at ING Direct USA, in a prepared statement. Now a part of Capital One, ING Direct is the biggest online bank with 7.6 million customers and $83 billion in deposits.
Readily available after logging in online, the feature allows customers to establish goals for specific purposes – a baby, an emergency, a wedding and home improvement are some of the preset goals. Customers can also designate their own unique goals.
After creating a goal, customers can set a goal amount and start/end dates to calculate how much they need to save and how often they need to save in order to accomplish it.
Or, customers can set the goal amount and how much they plan to save and figure out when they'll reach that goal.
"By establishing a very specific goal, we believe that Savers will be more likely to fund that account on a regular basis," Kelly added.
There is a maximum of one goal per account number. ING Direct customers can create up to 30 sub-accounts, each of which have their own account number, and nickname them as they please.
A goal countdown ticker and tracking graphs offer an easy way to follow the savings progress. At major milestones (25, 50, 75 and 100 percent), ING Direct will send out celebratory emails to keep customers motivated.
Customers will be able to see a list of current savings goals and completed goals.
However, customers are still responsible for transferring funds to their savings accounts — either by scheduling them manually or setting up a recurring transfer.
This is the latest update to the ING Direct online banking experience since the debut of remote check deposit last month.
Ask a Question