MoneyDesktop: How Personalized Deals Shine in PFM Tools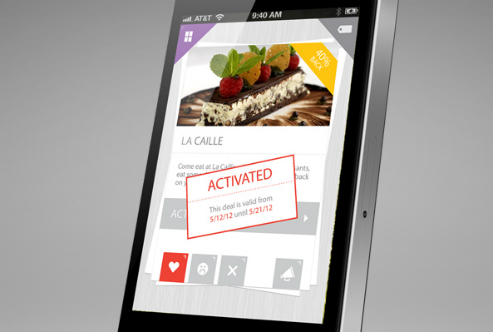 Personal financial management (PFM) tools and merchant-funded rewards programs are the latest crazes in the financial-tech world, which makes it appropriate to combine the two concepts. In an innovation gallery in March, Intuit — the parent of FinanceWorks and Mint.com — displayed a white-label mobile banking app with personalized deals. Now, another PFM provider — MoneyDesktop — has adopted the idea of merging PFM and merchant-funded rewards.
Earlier this month, MoneyDesktop unveiled its new personalized deals platform at Finovate, a conference showcasing the latest innovations in financial and banking technology. Simply called "Deals," the program is currently undergoing a beta test in small markets.
With more than 270 partnered U.S. financial institutions and growing, MoneyDesktop competes with other PFM providers including FinanceWorks, which is used by more than 400 U.S. banks and credit unions, and Mint.com, a popular standalone PFM tool. MoneyDesktop uses a variety of sources and proprietary technologies for data aggregation.
Like most PFM tools, MoneyDesktop lets users link their other financial accounts for a complete look at their money situation. With the new "Deals" program, MoneyDesktop is set to edge out the competition.
MoneyDesktop approached personalized deals to leverage a greater amount of purchase-history information to improve the end-user experience, said Ryan Caldwell, CEO of MoneyDesktop, in a phone interview. The Deals program uses transaction history from all aggregated financial accounts to dole out tailored merchant-funded offers.
Many similar personalized-deals programs from banks and card issuers, including Bank of America, American Express and Ally Bank, rely on the purchase history from just one bank or credit-card issuer.
"Our program encompasses multiple accounts and the deals can span across multiple cards," Caldwell said. "Banks can encourage their own credit card or debit card to be used."
For example, a deal may be generated based on the transaction history of an American Express card but the participating merchant may not accept AmEx cards (not uncommon.) Instead, the deal can be redeemed with another card, such as a Visa or MasterCard from the bank or any other card that is linked to MoneyDesktop.
The offers are automatically redeemed and cash-back is automatically issued after an eligible purchase. Currently, MoneyDesktop's deals include travel, fine dining, shopping and more from national brands and local small businesses.
Less than half of MoneyDesktop's clients are banks, but that may soon change. "We have had huge interest from banks," said Caldwell. Caldwell declined to name any banks that are interest in partnerships.
A great first step
"Deals are a work in progress," said Bradley G. Leimer, vice president of online and mobile strategy at Mechanics Bank, who was a Finovate attendee.
By complementing purchase history with location and social media data, MoneyDesktop can further tailor their deals to users.
"Taking that aggregated transaction data, and adding a proximity component like MoneyDesktop is starting to do, is a natural progression for all deal applications," Leimer added. "If the transaction graph tells us more about personal taste, or preference, then our social graph starts to refine it and proximity data nails the appropriate context of the offer."
MoneyDesktop will integrate its deals program into its iPhone and upcoming iPad app to take advantage of GPS functionality. American Express, which recently launched its own deals program, already does this — and it also offers deals through social media channels including Twitter, Facebook and Foursquare.
"I like MoneyDesktop's approach to deals, but their delivery is still in its infancy — corralling all of the data from multiple attached accounts is a great first step," said Leimer.
Would you like to see your PFM tool offer personalized deals?
Ask a Question