ReadyForZero iPhone App Helps Tackle Debt On-The-Go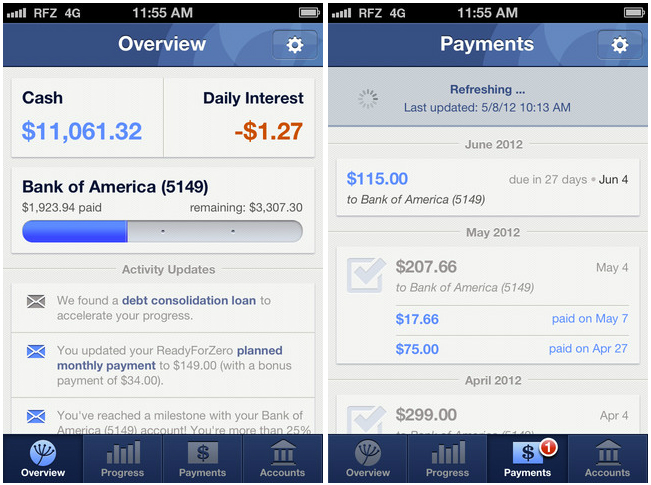 While many other personal financial management (PFM) tools and applications only offer a snapshot of finances, ReadyForZero is one PFM that encourages action — paying down debt. And to bolster that agenda, the financial-tech startup launched an iPhone app to keep users on track wherever they may be.
"ReadyForZero has provided a great deal of clarity on my credit card debt situation and the iPhone app is an excellent extension of their web app," said one reviewer in the Apple App Store.
On ReadyForZero's website, users can link their credit card and loan accounts to a single platform that lists all debts, interest accrued, monthly payment amounts, due dates and more. With this information, ReadyForZero constructs the optimal payment plan for each debt on a monthly basis to minimize interest paid and the time to pay off these debts.
Then, users are expected to follow the plan while receiving personalized guidance, reminders and motivational messages.
Released last week, ReadyForZero's mobile app acts as an on-the-go companion to help users stick to the program. The app houses most of the features that are available on the ReadyForZero website, except it's on the user's favorite mobile device: the smartphone.
Currently, the ReadyForZero mobile app is only available on iOS devices but it will be available on other mobile platforms. "We are working on developing mobile apps for other mobile platforms such as Android in the near future," the company said in its FAQs.
Other get-out-of-debt platforms include Urge, an app aimed at preventing impulse spending, and Springcoin, which automates credit-counseling services.
Ask a Question