Money Grows on Virtual Trees: American Express and Zynga Team Up for Virtual Prepaid Deals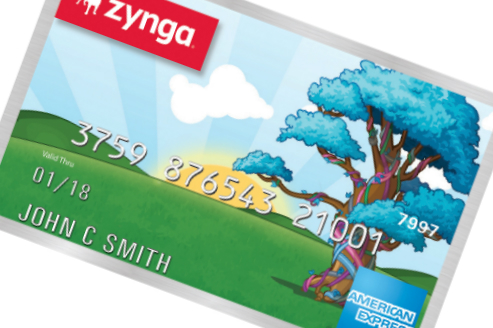 Good news, social gamers! Thanks to a partnership between American Express and Zynga you can now earn fake money to spend in your virtual world by spending real money in the real world! American Express' Serve reloadable prepaid card now integrates with Zynga's FarmVille, offering something called Farm Cash as a reward to Serve users for spending real dollars. Does none of this make sense? Congratulations, you've likely finished puberty. It is important to note, however, that American Express is positioning its rewards programs and prepaid products for a post-pubescent audience.
Zynga Serve Rewards is the official name of the program, which launched Tuesday, and it works like this: set up a co-branded Serve/Zynga prepaid card, load it up with money and activate it, and then spend your money with it just like you would any other card. You will start receiving rewards in your connected Zynga games. For now, only the first five purchases greater than $25 made with a Zynga Serve Rewards card actually earn rewards: 50 Farm Cash, the currency of FarmVille, to be exact.
In the future, all purchases will come with some sort of reward, and the rewards will expand to other Zynga games. You'll be able to "purchase a variety of virtual goods such s the Havering Manor in CityVille or A Super Clobber in CastleVille," reads an otherwise scrutable blog post on Serve's site. In FarmVille, the Serve card activates something called a Money Tree (pictured above) which changes colors when players perform certain actions, and gives out Farm Cash rewards on occasion. We think; none of this really makes a tremendous amount of sense to someone who is not intimately familiar with the admittedly bizarre machinations of these "social" games.
We can say this for sure: the Zynga-Serve partnership is part of American Express' wider efforts to bridge the gap between online and offline commerce.
"As the commerce landscape continues to change, and online and offline spending converges, Serve is focused on partnering with companies like Zynga to create unique value for our customers in the environments they love," said Dan Schulman, President of Enterprise Growth at AmEx, in prepared remarks. The Enterprise Growth group focuses on expanding AmEx's mobile and online payments services.
Banks and card issuers are increasingly switching to prepaid cards as a way to reach younger consumers, and the Zynga Serve Rewards card appears to be part of this larger trend. At the very least, it doesn't encourage users to spend their actual money on pixelated goods — something Zynga is quite dependent on as a company. Bloomberg reported that just 1 in 10 Zynga users actually pay real money for virtual goods, and less than 1 percent of users bring in anywhere from 25 to 50 percent of the company's revenue. According to that same Bloomberg story, one user singlehandedly brought in $75,000 over the course of a year. Zynga is dependent on these virtual goods addicts — who they call "whales" — to make any money. It's a company that thrives on compulsion.
And now American Express can take part in all this, with its new co-branded prepaid card. To AmEx's credit, however, its card does not encourage users to spend their allowance money on pixelated ponies and peach trees directly. It instead offers users a way to avoid spending their money on things that do not actually exist, but only if they spend money on things that do actually exist.
What if, instead of all this, we just taught kids how to save money?
Ask a Question