Mint's iPad App Update Offers Deeper Look at Your Finances
How deeply into your finances do you really want to go? Mint.com just released the newest version of their iPad and iPhone app, which, aside from the stunning retina display, incorporates details into your finances that may frighten you with the information now available.
Ken Sun, product manager for Mobile at Intuit Personal Finance Group, walked me through the updates that Mint has added to the app based largely on consumer requests.
The first new feature allows you to analyze your spending in specific categories set against previous years' spending in that category, going as far back as the information is available. So you can actually compare your grocery shopping this month to how it looked at the same time last year.
You can also split categories to get even more detail, for example by creating a category "shoes" within clothing, and measure those expenses by month or year. Set a budget for that category to make sure your spending does not get out of control.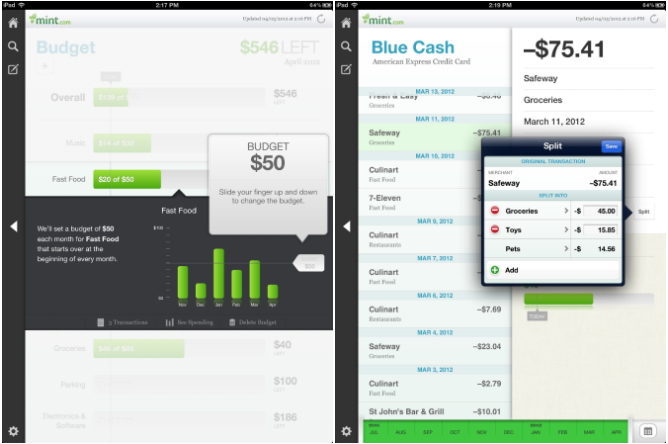 In a similar vein, another new feature allows you to split a single transaction among multiple categories with a new "split" button. This is especially important for big shopping trips to Walmart, Costco or other supercenters where your purchase can include food, clothing, toiletries and a new computer.
After hitting split, you can take your $350 purchase and place $100 of it in groceries and $75 in clothing. You can account for every cent if you were so inclined. This type of micromanaging is available on the online version already, and by bringing it to the iPhone, Mint allows you to split the purchase right there on the checkout line so you don't forget.
Having all your money and expenses in real time right in front of you allows you to tinker with your various expenses month by month depending on your schedule. One month may find you on vacation (travel and restaurants will likely increase) while another will see you in the office working late (expect coffee to spike). The problem is that those two budgets differ drastically in size, so the denominations should differ as well. While travel might need an adjustment in the hundreds or thousands, coffee probably only needs an extra $30.
Mint therefore decided to implement a new slider that allows you to decide whether to change your budget by $1, $10 or $15. This gives you greater precision when fiddling with the various aspects of your budget.
The role of the iPad
As expected, the design is sleek and the upgrades fit perfectly with Mint's detailed budgeting platform. Sun explained the importance of the improvements for the iPad app because of the way people utilize the device itself. "Mint traffic is steady through all devices throughout the day, but starting around 6 p.m. there is a dramatic spike for the iPad app usage," he said. "This is because people are probably laying in bed or sitting around the house and don't have their laptops nearby, so they check in on their finances with their iPads."
The ability to delve endlessly into your credit cards, bank accounts, mutual funds, savings accounts etc. is especially alluring to iPad users who are just fooling around on the device anyway. Each move you make to your budget might not be intrinsically crucial, but creating an overall positive user experience helps users get more in tune with their budgets and finances. Which could be a little scary if you do see you went way overboard on shoes one month.
This is especially important considering how much time we already spend on our computers, phones and tablets checking Facebook, Twitter and other useless information. Mint's additional level of detail will hopefully encourage users to compensate by dedicating more time to budgeting. Maybe this could help combat the stigma that 18- to 34-year-olds have attained for checking their social media accounts on a daily basis while supposedly neglecting their finances. With Mint's intuitive and easy to use app, people may become as attuned to their financial situation as to what their friends are doing.
Ask a Question