What Deals Programs Do Besides Encourage Spending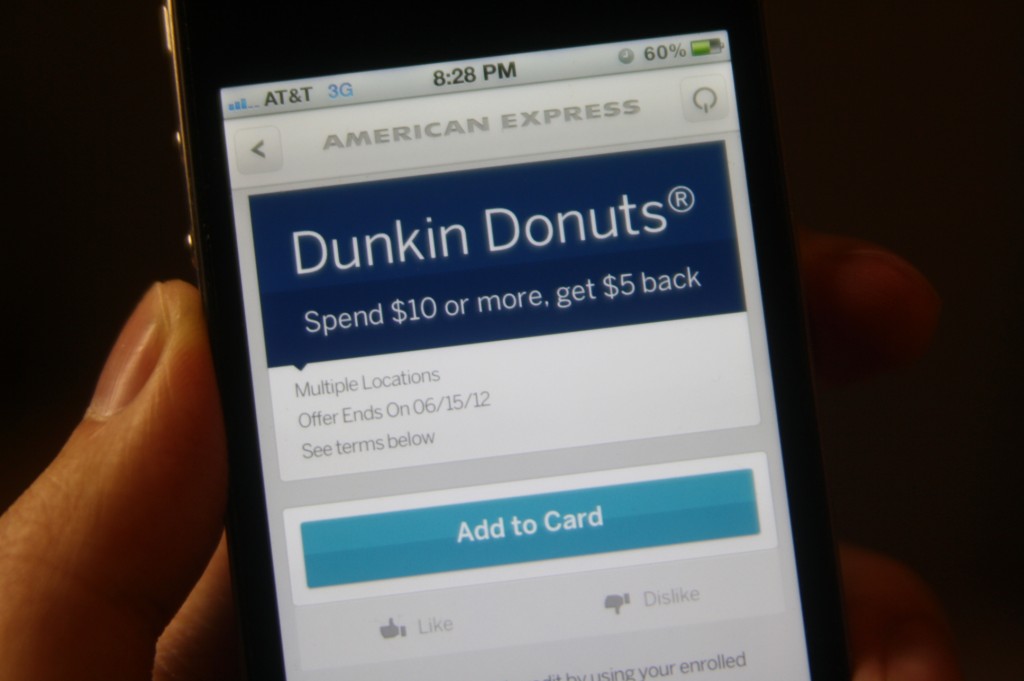 Daily deals, including those from the likes of Groupon and LivingSocial, have never been very attractive me, so those companies never got their hands in my wallet. But, with these types of deals becoming available — for free — from banks and card issuers, I got a first-hand look as to why it's such a lucrative market. And, getting me to spend is just the tip of the iceberg.
Through the new "My Offers" program from American Express, I walked out of Baskin Robbins with a quart of Pralines & Cream and a quart of Rainbow Sherbet for a net cost of $5 after receiving $5 cash back on a $10 purchase. Bring on the brain freeze.
Despite falling into the category of "personalized" deals, which are supposedly delivered based purchase history, the Baskin Robbins deal — and the list of 79 other offers available to me — did not feel like it was tailored to my spending habits.
I haven't bought anything at an ice cream shop with my AmEx card. Many of the other offers, mostly for local restaurants, did not match my spending neither. So, I question how representative these deals are of my purchase history. But, it doesn't hurt that I'm offered deals for places I'd never think to visit. I just might try them out.
Personalized or not, these offers encourage spending — something that is undesirable to a saver. Yet, that's just a part of the agenda.
In March, I participating in AmEx's Twitter campaign that allowed cardmembers to redeem deals simply by tweeting a certain hashtag — I got a free $10 Best Buy credit for tweeting #AmexBestBuy. Sometime before that, I received $20 off a $150 at TigerDirect.com, an online electronics retailer, through AmEx's "Link, Like, Love" program on Facebook.
Knowing that a card frequently has various deals (not just spammy offers for local spas), it's not surprising that I'm inclined to have that card with me at all times. I'm ready to use the card if and when a deal shows up. In the age of the smartphone, it's easy to discover and take advantage of the deal, as AmEx has proved.
I have three credit cards and one debit card. When I leave the house I carry the debit card and one of the credit cards. My Amex is that one credit card.
It's what card issuers are aiming for. They call it the "top-of-wallet" position — marketing lingo for a card that is the primary source of payment.
Some banks and card issuers collect fees from merchants and retailers on these offers, others do not. I don't see it as impactful as winning the top-of-wallet battle.
Firstly, a top-of-wallet card is more likely to be used on all other non-deal purchases, which leads to more interchange fees that card issuers collect from merchants for accepting card payments.
Then, more purchases on the card means a higher balance on the card account. If I am one to carry a balance month after month, I'd be paying more interest to this card issuer versus another.
Increased spending may just be the initial effects of merchant-funded deals. Perhaps the potential for bigger credit card bills may convince you to opt out of these deals programs.
If I were more susceptible to spending sprees, these deals programs may have posed a greater threat to my finances. At least with the like of Groupon and LivingSocial, I have to pay for the coupon. Banks and card issuers are offering these deals for free.
Ask a Question