Groupon to Issue Swipe Dongle, But Why?
Bloomberg reports that Groupon Inc., the Chicago-based local deals site, has began "testing" a credit card swipe dongle, much like PayPal Here, or Square's square. It is currently being tested by "dozens of merchants" in the San Francisco Bay Area. Exciting, sure, but why does the coupon website want to get into the reader game?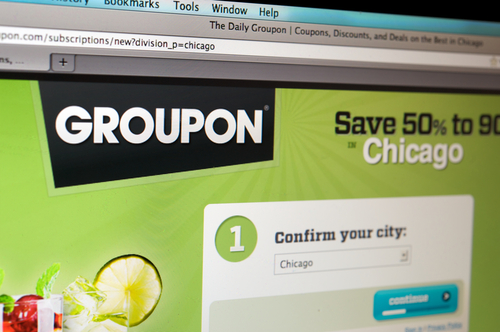 To wit:
The reader, manufactured by Infinite Peripherals Inc., is designed for the businesses that rely on Groupon (GRPN) to market their wares…the device plugs into the headphone jack of a smartphone …, this person said. Groupon collects a fee of less than 3 percent on each transaction through the readers, the person said. The device is part of the company's efforts to increase revenue from the local shops and restaurants that use its online coupons.
The day before, however, VentureBeat, which broke the story, reported that Groupon would be charging substantially lower fees than Bloomberg reported: 1.8% + $0.15, which sounds low when compared to Square's 2.75%, but is still higher than most interchange fees. According to VentureBeat, Groupon is also offering free iPod Touches along with the dongle and app, to its test businesses. Both reports hint that Groupon's acquisition of FeeFighters, a payments processing comparison shopping service, is what has helped Groupon offer such low rates.
Groupon's stock is trading up today, presumably on the news, but it's not clear why. Sure, Groupon could get into the payments game, but why should Groupon get into the payments processing game? Most of its clients are businesses like nail salons, Thai restaurants, and the like — not unsophisticated startups that don't already have a POS terminal of their own. Restaurants frequently already have complex computer systems that allow communication between the floor and the kitchen, and also act as POS terminals. Groupon certainly isn't silly enough to think it can replace something like that with an iPod Touch.
Perhaps Groupon would like to help businesses that would otherwise shy away from its services due to the fact that they only accept cash and could not handle an onslaught of thrifty foodies, for instance. It is not immediately apparent why the company's existing clients would seek out payment services from Groupon.
Ask a Question