Groupon's Dongle Dabbling Starts to Make Sense
Last week, we reported that Groupon is testing out a mobile swipe dongle, like Square, in the San Francisco Bay Area. To us it was not immediately apparent why Groupon would be getting into the mobile swiper space: not only is the field crowded, but also Groupon's clientele doesn't seem to be the sort of business in need of a mobile swipe dongle. Restaurants already have sophisticated POS terminals that communicate between the dining floor and the kitchen — why would Groupon seek to replace all this with a free iPod and a dongle?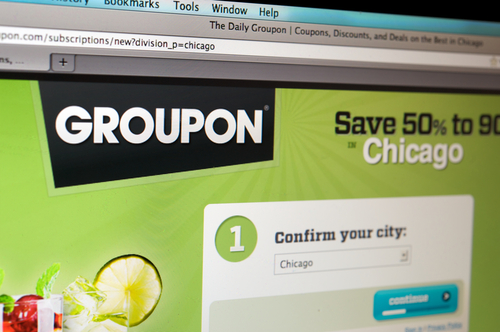 A recent acquisition hints at a new way forward for Groupon, and at a possible, practical application for its dongle dabbling.
Reuters reports that the Chicago-based discount site purchased New York-based Breadcrumb, a company that makes mobile point-of-sale terminals for restaurants, and includes a number of high-profile New York restaurants as clients. Finally, Groupon's acquisition makes sense, at least a bit more.
Most restaurants have highly sophisticated POS terminals from either Aloha or Micros, which act as cash registers, printers, credit card swipers, a means of communicating with the kitchen, and as a management tool. Why, we asked, would Groupon seek to convince its restaurant clients to switch to using an iPod and a dongle when they likely have a sophisticated system in place already? Most of Square's marketing materials show the dongle in use at coffee shops, and this seems exactly like the sort of business that might benefit most from one of these things: one that might not already have a nimble POS that accepts credit and debit cards.
Breadcrumb solves this problem: it's a state-of-the-art POS system for restaurants that uses cloud data storage and iPads. Servers punch orders into iPads and can send tickets to the kitchen while they're on the move. The iPads can hook up to cash registers and printers, and presumably integrate with Groupon's dongle.
If this is the future of restaurant POS, which seems reasonable (unlike mobile wallets, it actually improves on the current state of affairs), Groupon will be in a unique position to introduce more seamless, instant promotions among its clients. There would be no need to fuss with a Groupon code or image or printout, it would just be attached to the customer's credit or debit card info. Redeeming a Groupon? Just paying for your meal? It's all the same, now.
Also, there's the potential for variable pricing of goods using Groupon's marketing capabilities. Restaurants already use variable pricing a bit — there's a reason the same cheeseburger costs more at lunch than at dinner — but they could get even more precise with their promotions if Groupon is tied directly into their POS. Restaurant empty on a Tuesday night? Perhaps Groupon would make it possible to blast everyone within a certain radius of the availability of a tasty, cheap swordfish entree, or whatever. This would be, in theory, good for restaurants. Getting people in the door is one of the hardest parts of the business. On the other hand, it might be potentially infuriating for anyone within radius of crummy restaurants. They'd be constantly subject to all sorts of harassment.
That said, this is purely speculative. At least Groupon is making a little bit more sense now than it was last week.
Ask a Question