Mobile Swipe Dongles Grow Up, Settle Down with Traditional POS Systems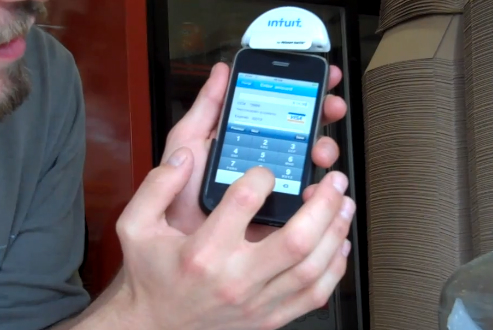 The burgeoning swipe dongle industry has a problem: there are only so many food trucks and small coffee shops in America, and indeed, in the world. The dongle-born ability to take credit or debit payments will certainly allow such small businesses to expand their customer base, but few larger businesses would be wise to toss out their sophisticated point-of-sale systems and replace them with an iPhone and a fragile looking dongle. Yet that seems to be changing rapidly.
On Tuesday, it was reported that GoPayment, Intuit's swipe dongle, is merging with QuickBooks, that company's POS, or point-of-sale, software. This comes on the heels of news that Groupon had both launched a dongle and purchased a restaurant POS, and that Square was doubling its retail footprint to include clients like Walgreens. Perhaps tablet- and phone-based POS terminals have a future outside of coffee shops and food trucks.
TechCrunch reported Tuesday that Intuit, which has been selling QuickBooks for about a decade, has merged the POS with GoPayment and "the two…will now be able to communicate with each other, syncing both inventory and financial data rom PC to mobile or vice versa."
Quickbooks is, according to Intuit, the best-selling small business financial software on the market. It allows business owners and operators to get a "high-level view" of their business, by tracking sales, finances, invoices, expenses, and the like. Now that it syncs with GoPayment, businesses will be able to have a fleet of tablet registers, all feeding into QuickBooks, a combination of desktop-based accounting with the fluidity of mobile payment acceptance.
Square, TechCrunch reported on Monday, is now in 20,000 retail stores nationwide, including Walgreens and Staples — companies so large and old that they likely wouldn't adopt dongle technology unless it actually offered something other than cachet. Square launched its Register app in March, which enables businesses to do more detailed accounting and analytics than earlier iterations of Square allowed.
Groupon, the Chicago-based deals website, is testing a dongle of its own in the San Francisco Bay Area, and it recently acquired a restaurant-specific POS called Breadcrumb. The integration potential here seems clear, and Groupon's ability to serve special offers makes its potential value proposition to restaurants even more clear: use our POS/dongle system and we'll help bring in customers. Intuit, as it stands, makes no such pitch; Square's POS does enable customer loyalty plans, however.
For all the hype surrounding mobile wallets, the consumer-facing side of the mobile payments coin, it's becoming clear that the real innovation and value can be found on the business-facing side of things. Businesses can potentially employ roving salespeople, armed with dongles and tablets, ready to help you part ways with your money — and you'll never have to wait in line again. Sales associates who help you set up in the fitting room at a department store will soon be able to help you get out of there without waiting in line. Talking to the tech guy at Target about a new flatscreen, he can take payment right then and there and set up shipping.
Unlike mobile wallets, which are more hype than anything, the value to both consumer and business is clear with mobile POS systems (some call them "POS light"), and it's something in the payments world that's actually exciting: shorter lines!
Ask a Question