TIO Launches Mobile Bill Pay Aimed at Underbanked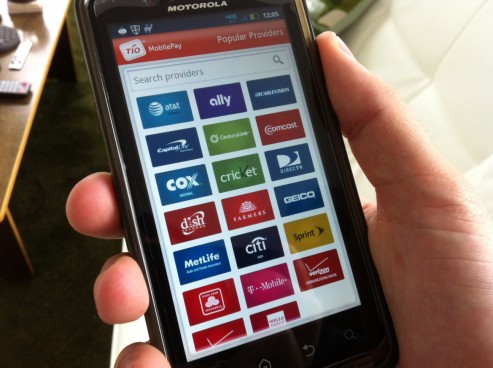 Mobile bill pay has long been dominated by the banks that offer it, but TIO Networks Corp. today released the next step of serving bill-pay solutions to the underbanked. TIO MobilePay is available on Android and iPhone and allows users to pay multiple bills with a debit or credit card right from their phone, right when they need to.
TIO Networks first entered the bill-pay scene with interactive kiosks that already handle over $1 billion in transactions per year. With the emergence of the MobilePay solution, which we previewed back in April, TIO banks on the convenience of the phone to help consumers keep up with their bills. The app will allow consumers who may already use their phones to purchase goods with their credit cards to extend their credit a little further.
The mobile app includes a list of more than 6,000 vendors and allows the payment of multiple bills through VISA or MasterCard branded cards. Users can even choose the option of same day processing. This type of emergency bill pay will assist users in staying current in their bills and deflate the $20 billion owed in credit card bill late payment fees in 2009, as reported by a survey by the National Foundation for Credit Counseling.
While bill pay kiosks help consumers keep up with their bills, a mobile solution adds a whole new dimension to bill pay like the ability to schedule a payment in advance straight from the phone.
TIO MobilePay is powered by the TIO Wallet, a mobile wallet specially designed for the un- and underbanked population — an estimated 60 million households. It precedes several more cloud-based products that will launch throughout this year. Subsequent product releases will allow consumers to load cash into their TIO Wallet from kiosks and clerk-assisted retail payment centers. They can then use that cash to not only pay bills, but also transfer funds and make purchases.
A "real" mobile wallet
Ultimately, the TIO Wallet may actually become more like a real wallet, thus earning its name (unlike some mobile wallets we know). The whole ida of TIO's mobile wallet is to ease you out of your bank account — if you have one — allowing you to store small amounts of money in the wallet until you inevitably need to give it to someone else. In this way, users can rely on the cash they put in to be stored only for bill pay and not NFC push deals or other noise surrounding the mobile wallet.
The term mobile wallet has been thrown around a lot recently, but TIO hopes that simplicity will be key in attracting users and providing an actual function without extra bells and whistles. When trying to provide a wallet, companies should not stray far from its actual definition.
Ask a Question