Debtors of the World Unite! Finally: A Karl Marx Credit Card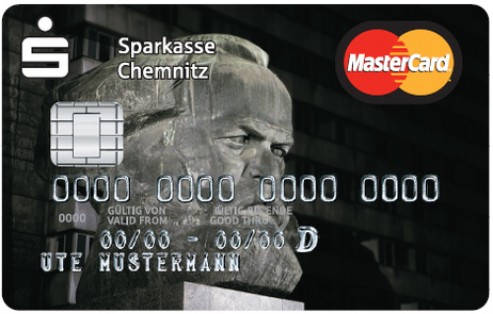 Karl Marx's visage has been recreated in stone all over the nations of Eastern Europe, where his political and economic philosophy held sway for most of the 20th century. A massive sculpture of his face that still stands in Chemnitz, Germany, has made its way onto the front of a MasterCard issued by Sparkasse bank, which is based in that very city.
If the apparent failure of communism in East Germany was a tragedy, then Marx's face adorning a credit card from the same region is most certainly the farce.
The Marx bust depicted on the MasterCard is iconic in the mid-sized East German city of Chemnitz, which was called Karl-Marx-Stadt (Karl Marx City) during communist rule. When Sparkasse invited customers to vote for a credit card image, Karl Marx came out as the "very clear winner," according to NPR's Planet Money, which has invited Twitter users to suggest a catchphrase for the exceptionally bizarre credit card.
Our favorite: "A specter is haunting Europe — the specter of cash back and low, low interest rates."
It hardly warrants mentioning that Marx, were he to wake up from his grave, would likely be appalled and amazed at the modern credit card industry, and so much else. It is truly difficult to imagine a less appropriate face to put on a credit card. Maybe the Buddha?
Ask a Question