Billeo Brings Instant Payments to …. Everywhere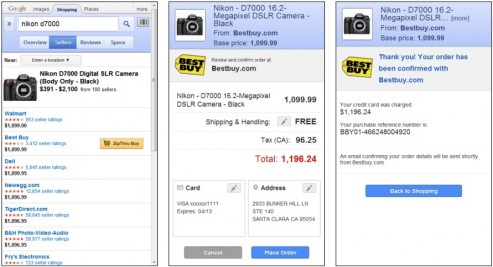 One of Amazon's best features is its Buy Now button which brought the one-click purchase to the masses. Now a company called Billeo plans to bring similar functionality to all marketplaces, including one as vast as Google shopping.
Today Billeo has announced the creation of ZipThru Buy, which will do just that, along with ZipThru Pay, a similar solution enabling one-click payment of bills through your financial institution.
Murali Subbarao, CEO and Founder of Billeo walked me through a demonstration of both products, which he hopes will enhance the ease and functionality of online purchases and bill payments, respectively.
ZipThru Pay brings bill pay to any bank
ZipThru Pay is software for banks that lack advanced mobile or Internet banking applications for bill payments in a time when innovations like mobile check deposit are becoming standard. The software provides a direct connection between consumers and billers, powering the transactions directly from your bank. It essentially creates a Pay Now button that also works with a credit or prepaid card. Now, instead of going through the biller's website, bill pay becomes available from your bank's website and your mobile device.
After loading the biller and account number, Billeo will pull the due dates and amounts owed in addition to showing you your account balance on one simple page. ZipThru Pay recommends you schedule the payment five business days before it's due to allow for processing, but it also has instant-pay and pay-with-card features in case you need to expedite payment. The payee remains on the app in a list, and you can even receive reminders when an upcoming bill is due.
By capturing all data payments in one place, ZipThru Pay brings big bank technology to those which might not have it readily accessible. This allows consumers to remain on their bank's site, which can now collect interchange revenue from the bill pay app, as well as capturing all data payment in one place.
ZipThru Buy speeds up mobile purchases
Of course this technology will not affect those who bank at giants with advanced bill pay technology already in place. Billeo therefore decided to tackle a separate market of customers pining for fast online purchasing: Imagine the best of the one-click purchase from Amazon and PayPal. While the former is site-specific, the latter is account specific; neither are true one-click purchases.
With ZipThru Buy, a simple API added to a site will allow customers to buy anything from almost any platform with whichever credit, debit or prepaid card they choose. So instead of only going to Amazon or having to open a PayPal account, one can look at the Google shopping page, compare to find the cheapest watch and purchase it without leaving the page in about 15 seconds.
Very powerful.
The implications of this could change the shopping habits of many consumers. Afraid of impulse purchases? This should absolutely terrify you. This would allow any site or app with multiple merchants to place a Buy Now button next to the products displayed. Suddenly, Amazon may have lost an edge. And PayPal's function cannot compete.
Social networking sites like Pinterest can especially utilize this tool because customers never have to leave the site and the purchase is essentially instantaneous. No credit card information is stored on the site (so if you lose your phone, no one can steal your data); simply hit purchase and the card you have linked will be charged. Billeo's technology merely powers the transaction. But everything else (customer service, payment processing, etc.) is handled by and belongs to the merchant. This includes valuable data on your purchasing habits, which Subbarao told me will not be used by Billeo for marketing.
Google Wallet: Back to the drawing board (again)
Theese innovations show yet another flaw with the design of the elusive mobile wallet. People have become so fixated on a phone that must do everything, that Billeo seized the opportunity to take one function of the mobile wallet and do it really well. You do not need to load up merchant rewards and coupons before you make a no-touch purchase. Consumers would be content with a one-click purchase that is safe, simple and, most of all, works in an online marketplace setting.
This is largely because consumers generally like to feel that they are getting the best deal, which can "lead many to abandon carts at checkout, especially when it takes them through six to eight pages for five to seven minutes to complete a transaction from start to finish," says Subbarao. One of Amazon's strongest features is allowing you to compare pricing, which makes you think you are getting the best price by choosing the cheapest seller.
ZipThru Buy has the potential to drive so many transactions because searches are expanded to include numerous retailers. Research time is cut drastically and the impulse purchase has never been so potent. On your mobile you can buy a whole slew of items before realizing how much you just spent, like the first time you ever used a credit card.
Furthermore, merchants get their hands on valuable purchase data, which Billeo will NOT use for marketing or anything other than enhancing the service (Subbarao could not stress that enough). The merchants, however, can, and likely will, use the data for marketing and other purposes, and now big marketplaces can gather even more data as purchases can come in even from a mobile browser, which is nearly impossible as things stand currently. With a small screen and multiple pages, consumers get spooked by the time they need to hit Pay.
Imagine the power of Pay Now.
Ask a Question