Kurrenci Launches at Northside Festival, Creates Internet Money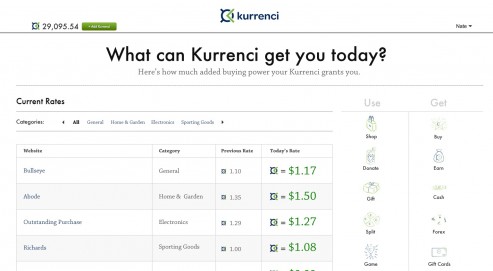 Two weekends ago during the Northside Festival, musicians, artists and filmmakers displayed their artistic works in venues all over Williamsburg, Brooklyn. Simultaneously, a new currency was born, one that exists solely online. And while the details of Kurrenci may conjure reminders of some other Internet monies that debuted and then disappeared, the folks behind this venture hope to drive a global change in how people handle money online.
Kurrenci hopes to transcend the noise of daily deals spamming your inbox by exchanging your money into "Internet money."
How it works
You register with Kurrenci.com for free and load up the account through a credit card, bank transfer, MoneyGram, or by mailing in foreign bills — and converting your real money into Kurrenci. Alternatively, you can pay for Kurrenci at checkout if you prefer not to keep a balance. Participating Kurrenci vendors will display their day's exchange rate, i.e. how much a dollar is worth on their site. Discounts are set by individual retailers and will vary by site. Depending on where you shop, a dollar of Kurrenci could be worth anywhere from $1 to $9.99 for a potential 90 percent discount. More likely, rates will hover around the 1.1 – 1.25 percent range, meaning your discount will be closer to 25 percent.
Some of the first partners to allow purchases with Kurrenci on their sites include Fashion41, Necessary Clothing and DUMBO's own Neighborhoodies. The companies will be provided with a customer base of Kurrenci users who can check what what their money is worth by checking the rates.
"Instead of having a choice between buying the item I want vs. buying the item that's on sale, I can now buy whatever I want knowing that by paying with Kurrenci I get a better value. Kurrenci moves the discount from the item to the instrument of payment," says Mosheh Poltorak, VP of Marketing and Business Development. "Or I can 'hunt the higher numbers' and try to shop at the best rate."
Of course this also means consumers have to time their purchases to the market. If Fashion41's rate takes a dive (so to speak), it's time to buy a new bag. The rates may not be as good tomorrow. That said, if you buy when it's at 1.2 and the rate changes to1.25 the next day, you made a bad deal.
Kurrenci makes its money by collecting a percentage of the added value of the sale from the retailer as payment for delivering the customer. The retailer will set a rate of how much he is willing to knock off his price while the consumer sees how much he will save. The difference equals Kurrenci's profits.
The power of the rate
Another feature is that you can give Kurrenci to someone else. You can send a friend a $100 Kurrenci gift, and if they purchase at a favorable exchange rate, your gift just increased its value. Furthermore, this would also attempt to answer some questions I've had about the renewed interest in micropayments; it would be easier to spend small amounts of Kurrenci at a reduced rate than to make a real cash transaction.
Companies like Bitcoin have tried to create Internet money in the past, which inadvertently catered to money laundering and other fraudulent types of activity. However, Kurrenci is compliant with anti-money-laundering laws and will flag your account if the amount of Kurrenci you purchased has risen too high or your purchase activity becomes suspicious. At that point they may ask for further identification.
On Friday, June 15th I watched Kurrenci unveil the new money for the Web. At the end of his presentation, Nathan Hecht, Kurrenci.com founder and CEO, answered the question, Why do you use Kurrenci? "Because it's worth more."
Hope so.
Ask a Question