MasterCard Users Get Location-Based Rewards With Shopkick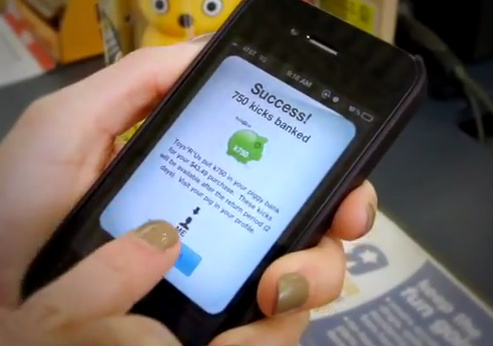 MasterCard members who have basic debit and credit cards — ones that don't earn rewards or cash back — can now jazz up their accounts, thanks to a partnership with Shopkick, a location-based rewards program.
Starting today, MasterCard users can download the free Shopkick mobile application for iPhone or Android devices and link their cards. Cardmembers will receive points, called "kicks," when they walk into a participating store and make a qualifying purchase.
For example, Shopkick might make an offer like "spend $40 and receive 250 kicks," at a certain retailer. Shopkick's partner alliance include major players like American Eagle, Best Buy, Macy's, Old Navy, Target, Sports Authority, Toys "R" Us and others.
Like most rewards programs, after collecting enough points, or kicks in this case, cardmembers can redeem merchandise, gift cards, music downloads, movie tickets, restaurant vouchers, charitable donations and more.
For a limited time after the launch of the program, Shopkick is giving 250 bonus kicks to MasterCard cardholders who add a card to the new program.
The partnership between MasterCard and Shopkick is one way to address a trend called "showrooming" where consumers see, feel and test products at brick-and-mortar stores and go home to order it online because online retailers are able to offer lower prices.
"As 'showrooming' becomes more and more of a threat to physical stores, shopkick and MasterCard can help retailers retain customers by offering rewards for in-store shopping," said Cyriac Roeding, co-founder and CEO of shopkick, in a press statement.
Mastercard cardholders with credit card accounts that don't earn rewards have a way to do so, without facing higher interest rates that usually come along with rewards and cash back cards. Cardmembers who already have a rewards program tied to their MasterCards can also sign up with Shopkick — offering the potential of more rewards.
For debit card users, who may have lost rewards when new regulations reduced bank revenue, Shopkick revives an incentive to swipe their debit cards to avoid the debt that may come when dealing with credit cards.
Shopkick's partnership with MasterCard marks the second collaboration with a major payment network. The company partnered with Visa in November 2011 to offer the same program to Visa cardmembers.
Ask a Question