BMO Harris Launches Mobile Apps With Remote Deposit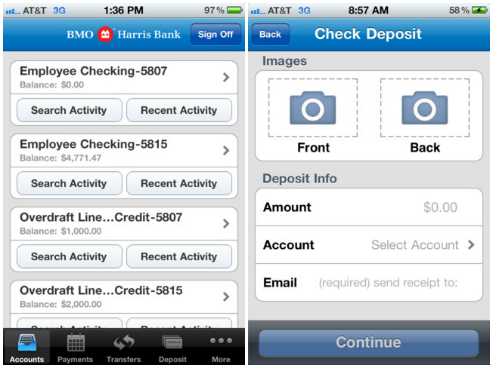 One year after its formation from the merger of Harris Bank and Marshall & Ilsley (M&I) Bank, BMO Harris Bank launched the first version of its native mobile application, with a highly-demanded feature to boot.
Now available for download for Apple iPhone and Google Android devices, the BMO Harris mobile banking app allows customers to check account balances, review transaction activity, transfer funds between accounts, pay and schedule bills, locate branches and ATMs and deposit checks.
The remote check deposit feature uses a smartphone's camera to take images of an endorsed check to have it deposited. There is no fee for using this feature.
"I am really excited about this app," said one reviewer in the Google Play store, " Now I can make check deposits from home."
BMO Harris requires that customers be enrolled in online banking and have an account open for at least 90 days to be eligible for remote deposit. For this feature, the bank imposes a daily deposit limit of $2,500 and customers can deposit a maximum of $5,000 in the span of 10 business days. These measures, used by most banks that offer remote deposit, are often taken to reduce the risk of check fraud.
The current M&I mobile banking app, which is still available for download, offers the same capabilities, but sign-in is possible only for customers that have opened their accounts in former M&I locations.
The apps' launch comes two weeks after BMO Harris said it would shutter 24 branches in four states to reduce the overlap of Harris Bank and M&I locations due to the merger. Not surprisingly, the introduction of remote check deposit will help reduce the need to visit an ATM or branch.
BMO Harris is the 15th-largest retail bank in the U.S. with $116.75 billion in assets and $72.88 billion in deposits.
Ask a Question