Chase Launches Liquid Nationwide, the First Prepaid Card of Its Kind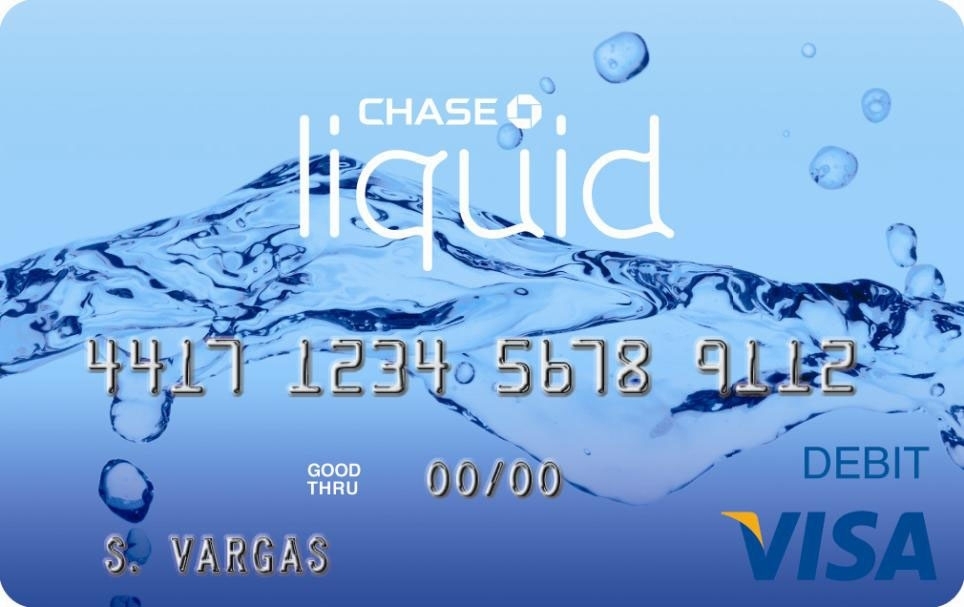 Starting today, you can walk into any Chase branch, coast-to-coast and, in addition to all its regular offerings, you can also sign up for Liquid — its first prepaid card. Previously, the card was only available in two test markets. Liquid is the first of its kind: a general-purpose reloadable prepaid debit card that is backed by a nationwide bank's infrastructure. Aside from the checkbook, there is little to distinguish Liquid from Chase's Total Checking account.
The Liquid Card requires just a $25 opening deposit, and it charges users a $4.95 monthly fee. Customers have access to Chase's 5,500 branches and 17,000 ATMs nationwide, for free deposits and withdrawals. Liquid customers can sign up for direct deposit, and have access to their account online at Chase.com. They can even receive paper statements for free, a perk that is going the way of the free toaster elsewhere.
"Consumers are looking for an affordable and predictable way to manage their money," said Ryan McInerney, CEO of Consumer Banking, in prepared remarks. "Chase Liquid is a low-cost alternative to traditional checking accounts and its convenience and pricing transparency sets a new standard for prepaid products."
The card also employs Chase's simple fee disclosure page, which the Pew Charitable Trusts have encouraged banks to adopt. That said, the card could hardly be more straightforward: $4.95 a month and $2 for non-Chase ATM withdrawals. That's it.
American Express and BBVA have both launched similarly priced reloadable prepaid cards in recent months, but neither boasts the ATM and branch network that Chase has, and this is a key difference. Just like with a checking account, Liquid customers can deposit checks at their bank's ATM or branch; they need not rely on a third-party reloading service, which charge a few bucks a pop to add money to a card, to fund Liquid.
The key difference between the Total Checking account and the Liquid card is access to mobile banking, and that the Liquid Card's monthly fee is lower: Total Checking, for those that do not meet monthly minimums, costs $12 a month. There are other differences, too. Liquid does not give customers access to Chase's merchant-funded rewards program. And right now, it does not have access to Chase Mobile, but the app will be updated in August to allow for Liquid's inclusion. Lastly, Prepaid users who write the occasional check will have to pay: Chase charges $8 for cashier's checks.
For someone who writes one rent check a month, the Liquid card will cost you $12.95 a month — slightly more than Total Checking. But for someone who does not — teenagers, college students living on campus, recent grads loafing around their parents' house, etc — the Liquid Card is potentially a more affordable option.
Is this what the future of prepaid looks like: check-free checking?
Ask a Question