Isis Offers Mobile Wallet Preview Before Launch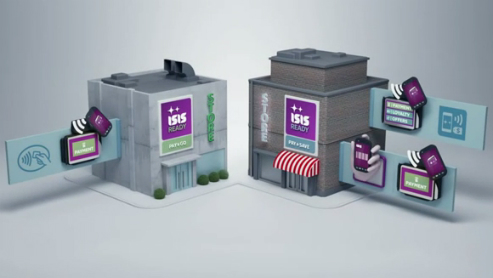 The biggest rival to Google Wallet is preparing for its upcoming launch. With the release of a set of tutorial videos on Thursday, Isis reveals more details on the mobile wallet's user experience and how it plans to compete in the fast-growing market of mobile payments.
"We've done enough testing to know that this is a new experience to tap your phone," Jamie Johnson, director of marketing at ISIS, told tech blog GigaOm. "We're really erring on the side of making sure consumers feel good about the experience and feel enabled to use the wallet." The videos can be viewed on GigaOm.
The carrier-backed mobile wallet venture by AT&T, Verizon and T-Mobile plans to debut this summer in Salt Lake City, Utah and Austin, Texas. However, no specific launch date is provided.
The mobile wallet will allow users to link their card accounts, loyalty programs and merchant offers and pay with mobile devices that are enabled with near-field communication (NFC) technology.
Isis is expected to work with two types of merchants: Pay & Go merchants and Pay & Save merchants. Pay & Go merchants will accept the usual contactless payment while Pay & Save merchants will do more.
Some Pay & Save stores will carry special readers that collect payment, loyalty information and offers in one tap to provide a smoother checkout process. Other Pay & Save stores without this special reader will be able to scan an on-screen barcode to retrieve the same loyalty and offers data.
Isis mobile-wallet users can find offers by digitally "clipping" them online, collecting them at physical locations via a tap or opting to receive them from a specific merchant through the Isis app.
Isis also borrows a page from the playbook of personal finance management (PFM) tools. Users will be able to view the account balances and most recent transactions on linked cards. It gives users a better look at their spending and ability to spend without opening another mobile app.
Currently, Isis is ready to support cards by American Express, Chase, Capital One and Barclaycard. Isis will also offer a prepaid card that can be reloaded with funds.
HTC, LG, Motorola Mobility, RIM, Samsung and Sony are going to manufacture NFC-enabled devices for Isis. It is unclear when they plan to make these devices available. The Isis app will need to be downloaded at launch but, in the future, new devices will come with it already installed.
The videos can be viewed on GigaOm or on YouTube.
Ask a Question