CFPB Announces Plan to Keep an Eye on How Credit Bureaus Operate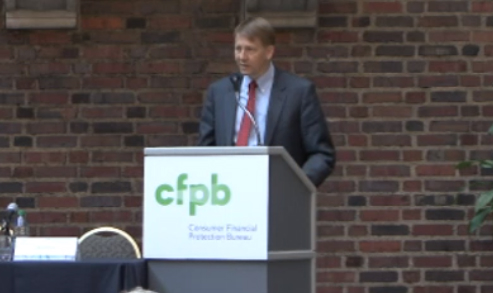 Five months after laying out plans to regulate credit reporting agencies, the Consumer Financial Protection Bureau (CFPB) has set a date. Starting Sept. 30, the consumer watchdog agency will provide oversight on the largest credit-reporting companies in the country.
It marks the first time that information recorded by consumer reporting agencies will undergo this form of review by a federal agency, said CFPB director Richard Cordray during a field hearing in Detroit. "Their scorekeeping exerts a tremendous and growing influence on the needs of your financial life."
Credit reporting agencies collect information regarding a consumer's credit accounts, loans, delinquencies, bankruptcies and more. The data is regularly used by lenders, landlords, utility companies and employers to determine one's financial behavior and credit risk.
Errors on credit reports usually lead to unfair pricing and denied loans and they are difficult to fix, Cordray said. Employers may dismiss job applicants that exhibit irresponsible financial habits.
The new rules will allow the CFPB to supervise consumer reporting agencies with more than $7 million in annual receipts from reporting operations. Currently, nearly 30 firms — including the three major credit bureaus Experian, Equifax and TransUnion — fall under that criteria. They represent 7 percent of the total market (comprised of about 400 firms) but are responsible for 94 percent of the business. The "big three" each maintain files on more than 200 million American consumers.
Watching the credit watchdogs
During the announcement, Cordray outlined three areas of focus for the CFPB.
First, with a deeper understanding of credit reporting practices, the CPFB wants to ensure that the information provided to consumer reporting agencies is accurate and reliable in the first place. The goal is to help reduce the number of errors that show up on credit reports.
Second, consumer complaints have convinced that the CFPB needs to review how information is assembled and presented — with an intent make it more easily understandable. This way, consumers can getting a better view of their creditworthiness and identify errors if they show up.
Lastly, recognizing the frustration of having erroneous data on consumer reports, the CFPB will address the "laborious process" involved in getting these errors removed. A better mechanism for disputing and correcting the errors may be in the works.
The consumer reporting market is not one where consumers can shop around for different providers, said Cordray. With these regulations, the CFPB hopes to restore confidence that the government is backing American consumers.
Currently, consumers can obtain one free credit report from each of the three major credit bureaus per year at www.annualcreditreport.com.
Ask a Question