PNC Bank Launches Prepaid Card, Similar to Chase Liquid
Pittsburgh's PNC Bank is the latest large retail bank to offer a low-cost, straightforward prepaid debit card that closely mimics the function of a basic checking account.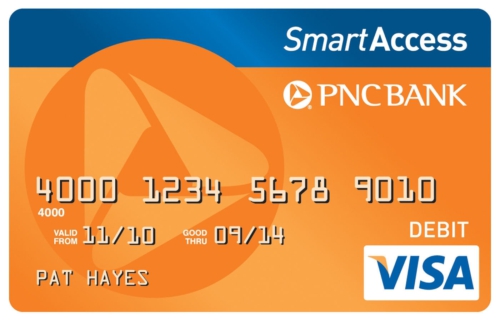 The SmartAccess Prepaid Visa Card, which had been tested in a few markets earlier this year, is now available at all of PNC's 2,900 branch locations. Its terms are similar to Chase's Liquid card, the first big bank prepaid account of this sort, which launched last week.
The card has a $5 monthly fee, and that's it. Customers may post direct deposits to the card and load cash at tellers. PNC charges nothing when users add money to the account. As of yet, they may not use PNC ATMs to load cash and checks onto the card. A PNC spokesperson told MyBankTracker that it's too early to say whether PNC will add that functionality or not.
Withdrawals at PNC Bank ATMs are free.
In addition to loading at tellers, SmartAccess card users may also reload at Visa ReadyLink locations, like Safeway, 7-Eleven, Circle-K, and others. PNC doesn't charge for these transactions, but retailers may.
The account costs nothing to open, and includes free access to PNC's online banking, where customers may review balance and transaction details.
Chase's Liquid card, launched last week, is a virtually identical product right down to the $5 monthly fee. But the Chase card can be reloaded at the nationwide bank's massive ATM network, giving it a leg up on PNC's very similar product.
Last week, we speculated that the prepaid account might slowly replace the basic checking account at big banks, due to the benefits on the bank's end and certain quirks of consumer psychology — the notion that checking ought to be free, for example, but prepaid cards ought not. That said, PNC is clearly very invested in its Virtual Wallet product, which houses its Spend Account — the basic checking account the bank offers. It doesn't seem likely that it will get rid of the Spend Account any time soon, especially not in exchange for a prepaid debit card that can't be reloaded at ATMs.
Still, it seems likely that banks will continue to roll out these cards parallel to their checking products, thereby bringing in customers who might have otherwise been pushed out of the banking system. That, we'd like to think, is a good thing.
Ask a Question