Chase Unveils Perk-Focused Disney Debit Card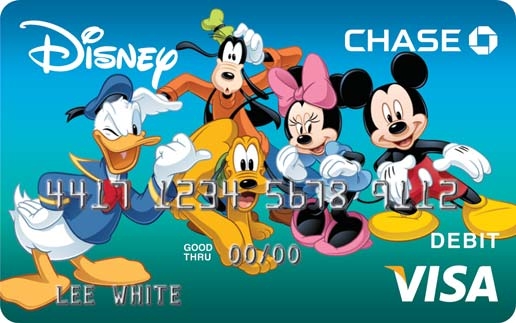 In a banking world where the majority of debit cards have lost their flare, Chase introduces a co-branded debit card to keep things interesting. The newly-launched Disney Visa debit card deviates from the typical card program that rewards users for making purchases. Instead, it acts more like a loyalty membership card.
With no annual fee, the card's perks include discounts on purchases at Disney Stores, discounts on guided tours and dining at Disney locations, access to cardmember-only locations at Disney attractions and eligibility for special cardmember hotel packages.
"Disney's Visa Debit Card is perfect for fans of Disney who prefer to use a debit card for their everyday spending," said Ryan McInerney, CEO of Chase consumer banking, in a prepared statement.
The Disney debit card has all the standard features that are found with the regular Chase debit card, so any Chase checking customer can opt for the Disney debit card — even if they don't plan to spend money on Disney products or vacations. The design alone may drive some customers to switch to the Disney card.
Adding flavor to the debit card market
In late 2010, when the Durbin Amendment was announced, debit card rewards programs began to disappear. Faced with less debit interchange fee revenue, big banks slashed these programs and many specialty debit cards that offered rewards were eliminated. Those that remained were heavily focused on air travel. Currently, Bank of America offers an Alaskan Airlines debit card and SunTrust has a Delta SkyMiles®check card — both of which carry annual fees. Debit cards from most of the biggest banks are simple, no-frills cards.
The launch of Chase's Disney debit card may just be the very start of a banking trend where banks collaborate with popular consumer brands to offer perk-focused debit cards rather than rewards-based debit cards.
The model is similar to that of Target's REDcard, a debit card that offers free shipping and a 5% discount on purchases made at the popular retailer. It has no annual fee and it draws from a customer's checking account.
If these types of debit cards catches on, consumers may have to carry less of those loyalty cards since their debit cards can act as a loyalty card too.
Ask a Question